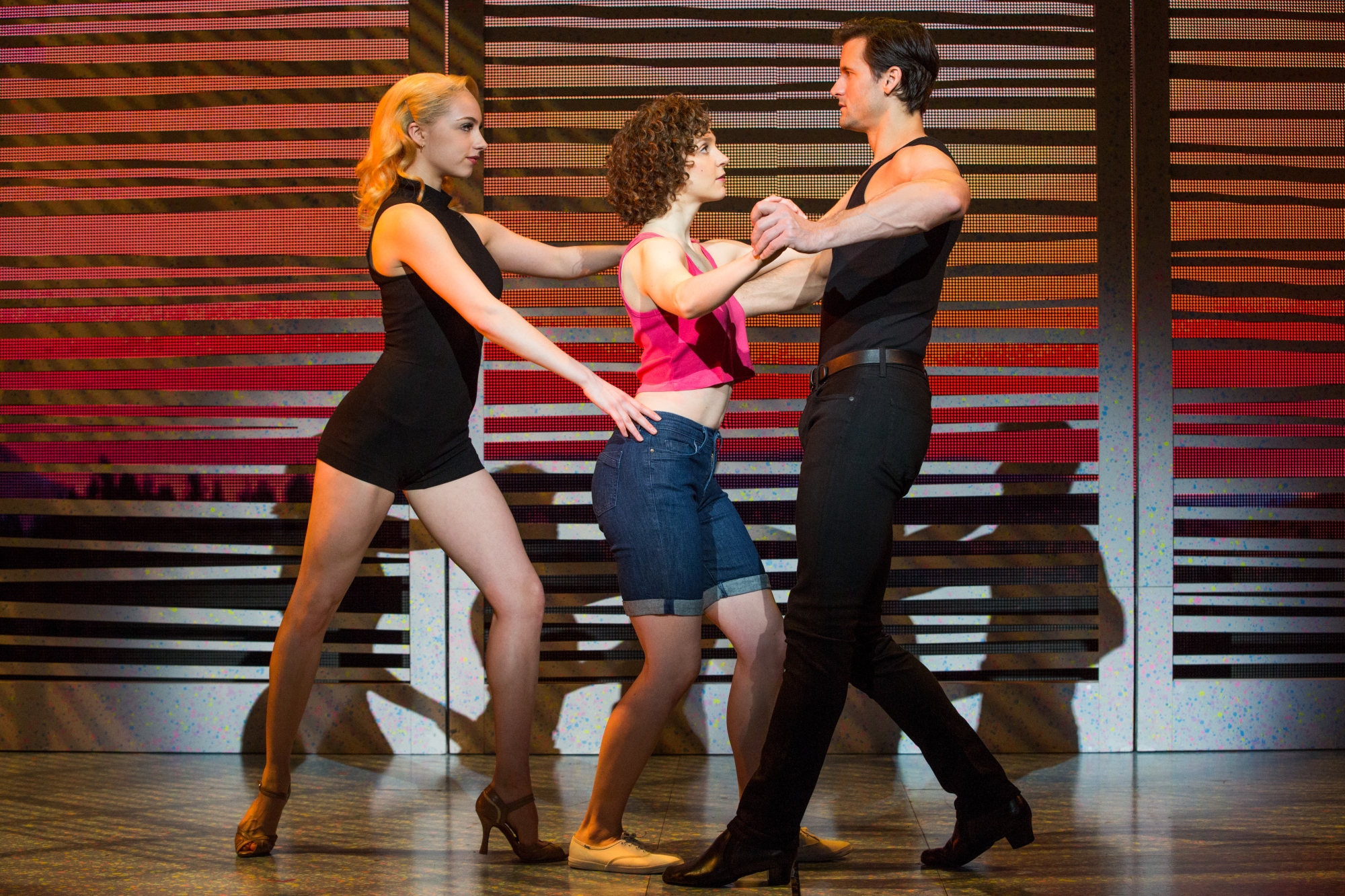 Posted June 23, 2015 | © Photo by Matthew Murphy
Bookended by roars from the audience at the beginning and end, Dallas Summer Musicals' opening night performance of Dirty Dancing: The Classic Story Onstage was no doubt a crowd-pleaser.
The creative use of video projections for scenic rendering, architectural elements, and weather events was coupled with an elevated live band on stage to create an all-encompassing romantic backdrop for the classic storyline about Johnny Castle (Samuel Pergande) and Frances "Baby" Houseman (Gillian Abbot) who meet and fall in love in the Catskill Mountains during the summer of 1963.
Actors cast with a high priority on dancing ability made up for some intermittent awkwardness in dialogue as the well-performed dance sequences and well-known scenes unfolded in alternating dramatic and humorous scene-by-scene depiction in strict keeping with the original script.
Singing and swaying along from the initial "Magic Moment" through "Johnny's Mambo," "Lisa's Hula," and the near-closing "Kellerman's Anthem," audience members were thrilled to be taken along on this journey of memorable moments and excited to hear iconic lines from the 1987 movie like "Nobody puts Baby in a corner."
And based on the repeated peals of applause (especially when the final 'lift' was beautifully executed), it was clearly evident that many theatergoers were having "The Time of [Their] Life."
This North Texas premiere of Dirty Dancing runs at the Music Hall at Fair Park for a limited engagement presented by Dallas Summer Musicals now through July 5, 2015. The tour then heads to Bass Hall July 7-12 presented by Performing Arts Fort Worth.
For more information, see performance details below, view additional general information about Dallas Summer Musicals, or visit the Dallas Summer Musicals website to get tickets for this or other upcoming shows.
Editorial Policy: The Flash List is dedicated to providing trustworthy editorial content by maintaining strict ethical standards, journalistic integrity, and credible professionalism regardless of potential compensation as working media. The Flash List discloses receiving tangible and/or intangible benefits for the purposes of providing media coverage for certain events, venues, products, and/or services.
MORE ON THE FLASH LIST
50 Things to Do
Bored? Well, there's definitely no need to be. Take your pick of these fun things to do.
Entertainment News
The latest breaking news and top stories in arts, dining, culture, movies, music, and sports.
Events Calendar
Not everything in town that you could do, but a list of events that you definitely should consider.
Date Night Ideas
From retro candy stores to luxury car rentals, let us help you impress on your next date night out.
Movies in Theaters
See previews of movies coming soon and trailers for films now playing at local theaters.
Go Gallivanting
Our sister website, The Art of Gallivanting, offers extraordinary adventures for ordinary people.