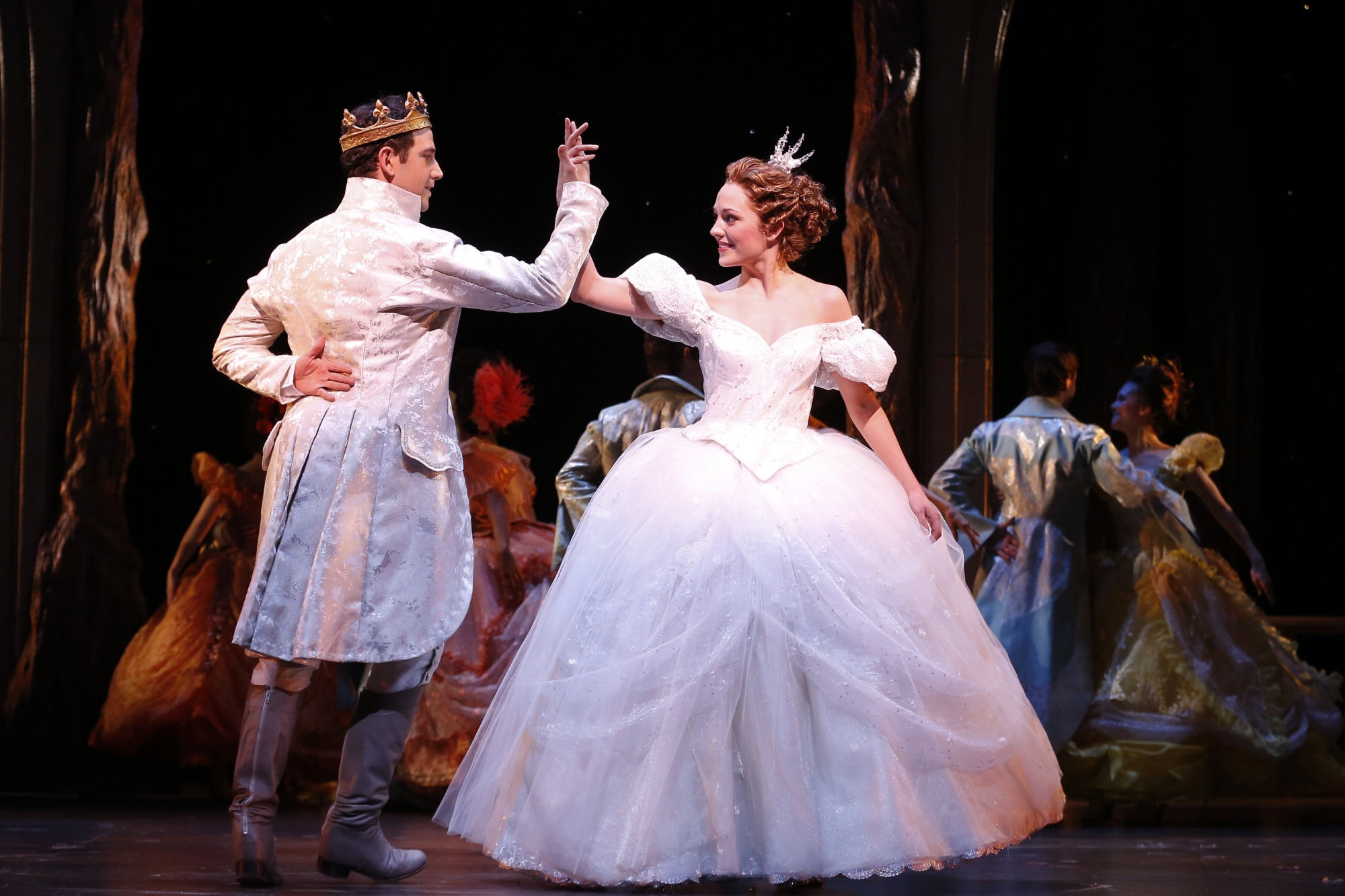 Posted June 10, 2015 | © Photo courtesy of Dallas Summer Musicals
Once upon a time, there was a gracefully kind yet unfortunately oppressed young woman attired in a drab little earth-toned frock. "Round and round she goes" however; and "where [that dress went], nobody knows."
Twirling in circles onstage until her earthy-colored cinder-scrubbing uniform is instantaneously transformed into a beautiful 14-layer sparkling white gown, the demure rags-to-riches princess-to-be dazzles audiences with this can-you-believe-your-eyes makeover before eagerly hopping aboard a lighted golden carriage conveniently provided by her fairy godmother (Kecia Lewis who has a spectacular 'moth-to-butterfly' wardrobe transformation herself).
A spirited champion of love and compassion, our heroine Ella (Paige Faure) is off to a glamorous ball, of course; and indeed it's no small affair. With full-scale storybook ambience utilizing practically every inch of vertical and horizontal stage space, the charming prop-heavy set design (by TonyAward nominee Anna Louizos) consists of numerous impressive handcrafted elements from the humble cottage in a heavily wooded forest to the sweeping staircase of the grand royal palace.
Gorgeous dresses in this richly-colorful production become prettier as they spin around on the ballroom floor (costume design by six-time Tony Award-winner William Ivey Long) as Prince Topher (Andy Huntington Jones) searches for a wife among the not-quite-fitting ladies of the kingdom including stepsisters Charlotte (Aymee Garcia) who whines hilariously and Gabrielle (Kaitlyn Davidson) who, despite sporting a Bavarian-pretzel shaped hairstyle, has a love interest of her own in rebel Jean Michel (David Andino).
The classic score for this Tony-Award winning Broadway musical (from the creators of The Sound of Music and South Pacific) is coupled with a new script (by Douglas Carter Beane) which offers wonderfully contemporary touches without the unnecessary use of marginally-related pop culture references. A continual supply of amusing comic relief is delivered up via Ella's stepmother Madame (Beth Glover) as well as Topher's corrupt overseeing regent Sebastian (Branch Woodman).
Woodland creatures turn into carriage attendants who perform stunning acrobatic stunts, and court guards move around the stage as if in a ballet (choreography by Josh Rhodes) in this captivating family-friendly show which contains all the expected fairytale moments you love along with some fun new twists.
Cinderella runs at Dallas Summer Musicals through Sunday, June 21, 2015 (with a length of approximately 2 hours and 20 minutes including one 20-minute intermission). Tickets range from $21.00 - $108.00, booster chair cushions are available for a nominal charge with ID, general parking is complimentary, and valet service is provided for $15.00.
So, if the glass shoe fits, feel free to dance happily ever after in it.
For more information, see performance details below, view additional general information about Dallas Summer Musicals, or visit the Dallas Summer Musicals website to get tickets for this or other upcoming shows.
Editorial Policy: The Flash List is dedicated to providing trustworthy editorial content by maintaining strict ethical standards, journalistic integrity, and credible professionalism regardless of potential compensation as working media. The Flash List discloses receiving tangible and/or intangible benefits for the purposes of providing media coverage for certain events, venues, products, and/or services.
MORE ON THE FLASH LIST
50 Things to Do
Bored? Well, there's definitely no need to be. Take your pick of these fun things to do.
Entertainment News
The latest breaking news and top stories in arts, dining, culture, movies, music, and sports.
Events Calendar
Not everything in town that you could do, but a list of events that you definitely should consider.
Date Night Ideas
From retro candy stores to luxury car rentals, let us help you impress on your next date night out.
Movies in Theaters
See previews of movies coming soon and trailers for films now playing at local theaters.
Go Gallivanting
Our sister website, The Art of Gallivanting, offers extraordinary adventures for ordinary people.