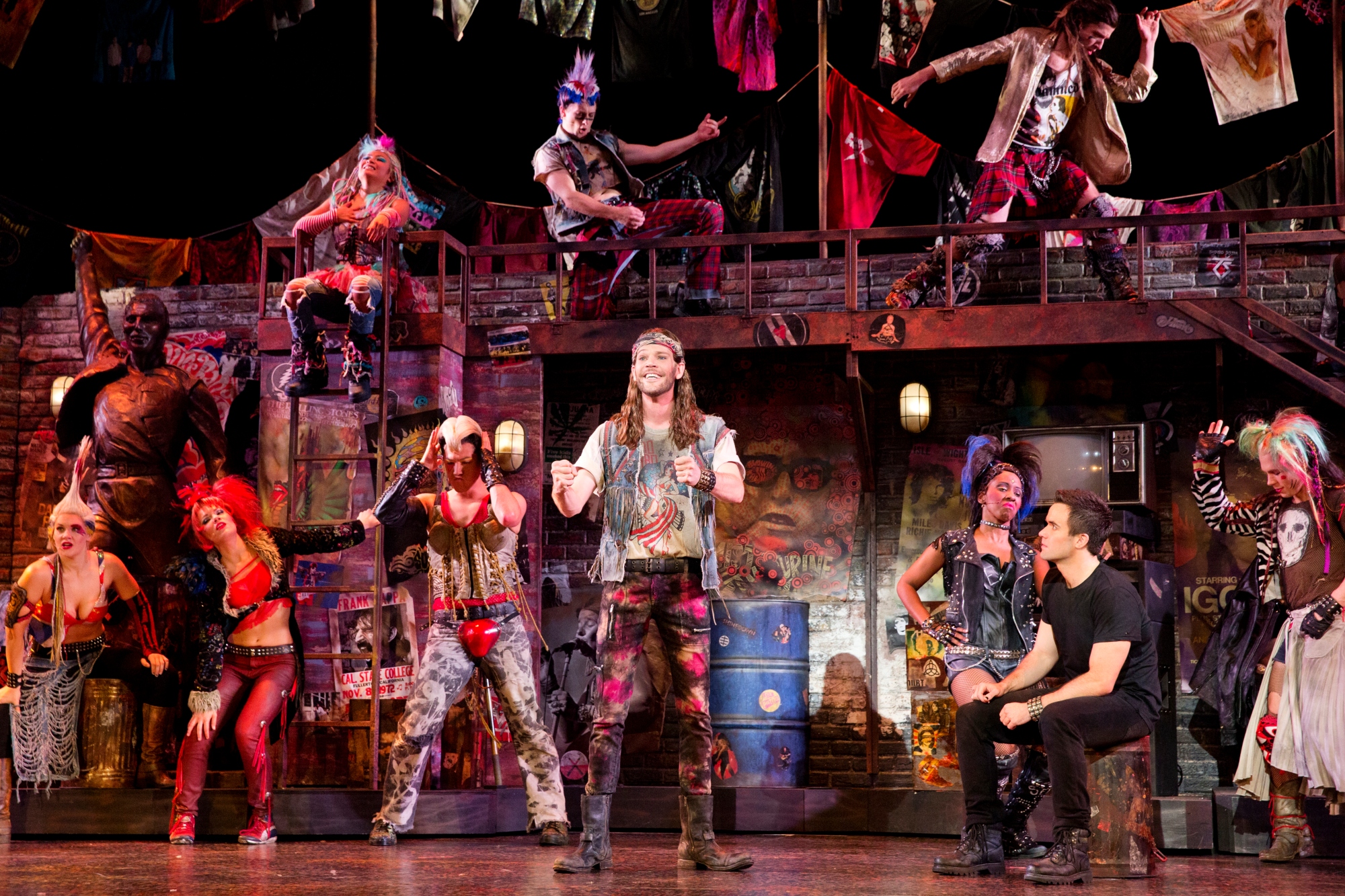 Posted March 5, 2014 | © Photo by Paul Kolnik
Individuality was by no means stifled at the Music Hall on Tuesday night.
The "maximum negativity spectrums" were activated on many cell phones (in other words, they were turned off), the house lights went dim, and there was a short moment of unified corporate silence before one lone voice suddenly cried out fervently from the audience, "I LOVE YOU FREDDIE!"
Built around the music of the legendary British rock band Queen originally fronted by the late Freddie Mercury, the jukebox musical We Will Rock You transports viewers to a future iPlanet once called Earth where life is controlled online by the fascist Globalsoft Corporation, nostalgic sentiments are squelched in exchange for strict adherence to Orwellian societal conditioning, and the power of rock and roll must never be known.
However, within the group of plastic-looking Gaga Kids who dress, act, and think identically and move with hyper-exaggerated robotic dance steps, there are two unwitting rebels. Galileo Figaro (Broadway actor Brian Justin Crum) hears song titles and lyrics in his head which spill out in this humorous script like an episode of Whose Line Is It Anyway? in which comedians intermittently pull lines out of their pockets to read at key moments. Galileo falls for the snarky goth outcast (Ruby Lewis) in her short miniskirt, torn black tights, and combat boots; and rather than referring to her by her assigned web URL, he suggests a name of Honky Tonk Woman or maybe P-P-P-Poker Face. When she tells him to p-p-p-piss off, they settle on Scaramouche. Both Crum and Lewis are knockout vocalists, and Lewis' best work is clearly seen during a few short but captivating solo vignettes when she is completely untethered from all other stage constraints around her.
Galileo convinces Scaramouche that "baby, we were 'Born to Run'" (one of many amusing punch lines originating from quotes by Elvis, The Rolling Stones, Spice Girls, Lady Gaga, Taylor Swift, Corey Hart, and more), and they flee to a place of refuge to escape Commander Khashoggi (P.J. Griffith) who reports in Max Hedroom style via large video screens to the overseeing Killer Queen (Jacqueline Arnold, channeling a bit of Tina Turnera la Mad Max Beyond Thunderdome). Joined by Oz, named after Ozzy Osbourne, (Erica Peck) and her boyfriend Britney, as in Spears, (Jared Zirilli), the couple finds their way to the Las Vegas Hard Rock Cafwhere the noncompliant Bohemians have amassed a rebel archive of musical relics curated by Buddy, as in Holly, (Ryan Knowles, in a quirky comedic fusion of Shaggy 'slash' Sasha Mitchell as Cody Lambert on Step by Step occasionally laced with a voice by Hulk Hogan).
This motley hodgepodge of Bohemian characters sports an array of fashions (a pair of leather chaps here, a few Boy George braids there, a kilt, rainbow Mohawk, feathered shoulder pad ornaments, etc.) and holds firm to the legend that the "mighty axe of a great and hairy guitar god" still exists buried somewhere in stone. But with musical instruments banned and the Tron-like Ga Ga police hot on their trails, will the remnant of Bohemians find a guitar hero to save them and their free-thinking creative ways? What clues can they take from the scroll of video tape (pronounced 'vie-DEE-oh TAP-ee' since they've only seen its reference in print magazines and on posters from the Age of Rock)? And will a Harley Davidson trip to Graceland provide the answer?
Replete with show tunes for macho guys who love rock 'n' roll as show tunes, We Will Rock You is "loud and live" fun musical entertainment with a live band above the stage rocking out to a fantastic score of Queen's greatest hits including "Another One Bites The Dust," "Crazy Little Thing Called Love," "We Are The Champions," "Bohemian Rhapsody," and "We Will Rock You." It's "a curiously exhilarating collection of words" written by celebrated British comedian and writer Ben Elton (TV's Mr. Bean and The Young Ones), and repeated references to Britney Spears are funny every single time. Is the show somewhat contrived, slightly silly, and bordering cheesy? Yes, in some ways it absolutely is; and very similar to movies we love like Flash Gordon, Monty Python and the Holy Grail, Ghostbusters, and many other classics which capture our rapt attention while channel surfing on any given Saturday afternoon.
And that may be why We Will Rock You is the 9th longest running show in London's West End and was crowned the UK's favorite show at the 2011 Olivier Awards, the UK equivalent of the Tony Awards, in a category voted entirely by members of the public. This theatrical musical is coproduced by Queen Theatrical Productions, Phil McIntyre Entertainment, and Tribeca Theatrical Productions (founded by Robert De Niro and Jane Rosenthal, the acclaimed producers of the Meet the Parents franchise, Analyze This and Wag the Dog); and runs at Dallas Summer Musicals through Sunday, March 16, 2014, with a length of 2 hours and 40 minutes including a 15 minute intermission, a recommendation for ages 9 and up, and tickets starting at $15.00 (which is less than some pay just to see a cover band).
For more information, see performance details below, get additional general information about Dallas Summer Musicals, or visit the Dallas Summer Musicals website to Get Tickets for this or other upcoming shows. And "Long Live Rock and Roll"!!
Editorial Policy: The Flash List is dedicated to providing trustworthy editorial content by maintaining strict ethical standards, journalistic integrity, and credible professionalism regardless of potential compensation as working media. The Flash List discloses receiving tangible and/or intangible benefits for the purposes of providing media coverage for certain events, venues, products, and/or services.
MORE ON THE FLASH LIST
50 Things to Do
Bored? Well, there's definitely no need to be. Take your pick of these fun things to do.
Entertainment News
The latest breaking news and top stories in arts, dining, culture, movies, music, and sports.
Events Calendar
Not everything in town that you could do, but a list of events that you definitely should consider.
Date Night Ideas
From retro candy stores to luxury car rentals, let us help you impress on your next date night out.
Movies in Theaters
See previews of movies coming soon and trailers for films now playing at local theaters.
Go Gallivanting
Our sister website, The Art of Gallivanting, offers extraordinary adventures for ordinary people.