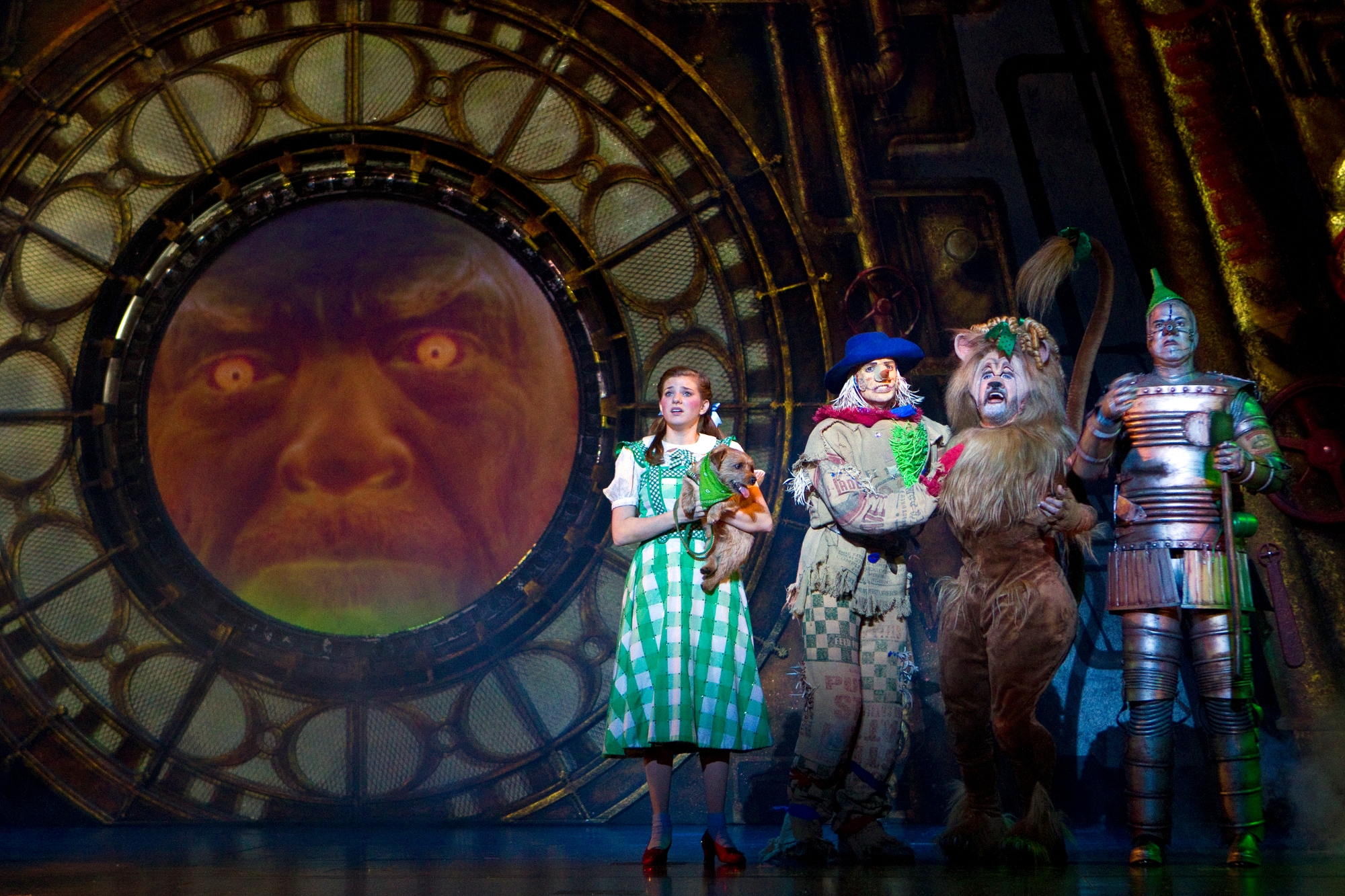 Posted March 20, 2014 | © Photo courtesy of Dallas Summer Musicals
Toto's sweet little lick to the side of Dorothy's neck during her solo performance of "Over the Rainbow" was certainly a precursory indication of the warm appreciation felt by audience members who broke out in enthusiastic applause after Danielle Wade's light, dreamy version of the beloved classic song. Wade (chosen by the Canadian public through CBC TV's reality show "Over the Rainbow") was sensational as Dorothy, as was her little dog too (a very obedient Toto, affectionately known as Nigel in real life), in this utterly enchanting musical developed from the ever-popular MGM screenplay.
Containing all the familiar tunes from the Oscar-winning movie score along with a few new ones by Tim Rice and Andrew Lloyd Webber such as the touching "Already Home," this well-paced journey through the magical land of Oz features impressive set design including oversized gliding props such as oblique farm houses, large flowering bushes along the Yellow Brick Road, and grand Ozian walls with stained-glass-type illumination. Professor Marvels' traveling wagon lights up like a lantern with its cabinet doors that swing open cuckoo-clock style to reveal global treasures and an impromptu slideshow illustrating several wonders of the world ... um, along with a random unintended photo of a 'pretty lady' from his "private collection."
Theatergoers can still enjoy a sense of movie magic as remarkable special lighting effects and dramatic video projections give the illusion of dark scary forests, flight across the sky, a destructive debris-filled cyclone, and of course the beautiful neon-colored rainbow. The film's most iconic moments are now sprinkled with humorous new comedic punch lines as Dorothy encounters a saddened Scarecrow (Jamie McKnight) who's been over-heckled by a small dancing chorus of Muppet-like laughing crow puppets; a heart-desirous tap-dancing Tin Man (Mike Jackson, who well-simulates the original character); and a faaabulous barrel-chested Lion (Lee MacDougall) with a particularly shapely set of gams, a tall crazy tail with a personality of its own, and a wildly teased-up 1980's-style mane of hair ... and that's even before the perm). On their way to meet the eccentric Wizard (Jay Brazeau), the foursome haphazardly instigates the 'ousting by on-stage melting' of the mean ol' Wicked Witch of the West (Jacquelyn Piro Donovan) who points her real-flame-emitting broomstick, barks taunts from her leaning tower of twisted metal, and places commands on her well-dressed Winkie guards and cuh-reeeepy flying monkeys.
A variety of entertaining dance styles, including a fantastically unique stick-dance number, enhance the adventurous story (choreography by Arlene Phillips); and lavish costumes are outrageously stunning (set and costume design by Robert Jones). Upon arrival, the train attached the eye-catching full-glitter dress of Glinda (Robin Evan Willis) spans the entire stage (side to side, top to bottom), Munchkins wear outfits in beautiful patterns quite similar to blue and white Dutch majolica, and residents of Oz dress in their glamorous green Sunday best with over-the-top emerald pizzazz made by Swarovski Elements.
This production is definitely one to watch; so be off to see the Wizard, the wonderful Wizard of Oz, running at Dallas Summer Musicals through Sunday, March 30, 2014 with a length of 2 hours and 20 minutes including a 15 minute intermission and a recommendation for ages 6 and up. With tickets starting at just $20, this show is a steal.
For more information, see performance details, and keep an eye out for that green Wicked Witch who just might possibly be appearing in an aisle near you!
Editorial Policy: The Flash List is dedicated to providing trustworthy editorial content by maintaining strict ethical standards, journalistic integrity, and credible professionalism regardless of potential compensation as working media. The Flash List discloses receiving tangible and/or intangible benefits for the purposes of providing media coverage for certain events, venues, products, and/or services.
MORE ON THE FLASH LIST
50 Things to Do
Bored? Well, there's definitely no need to be. Take your pick of these fun things to do.
Entertainment News
The latest breaking news and top stories in arts, dining, culture, movies, music, and sports.
Events Calendar
Not everything in town that you could do, but a list of events that you definitely should consider.
Date Night Ideas
From retro candy stores to luxury car rentals, let us help you impress on your next date night out.
Movies in Theaters
See previews of movies coming soon and trailers for films now playing at local theaters.
Go Gallivanting
Our sister website, The Art of Gallivanting, offers extraordinary adventures for ordinary people.