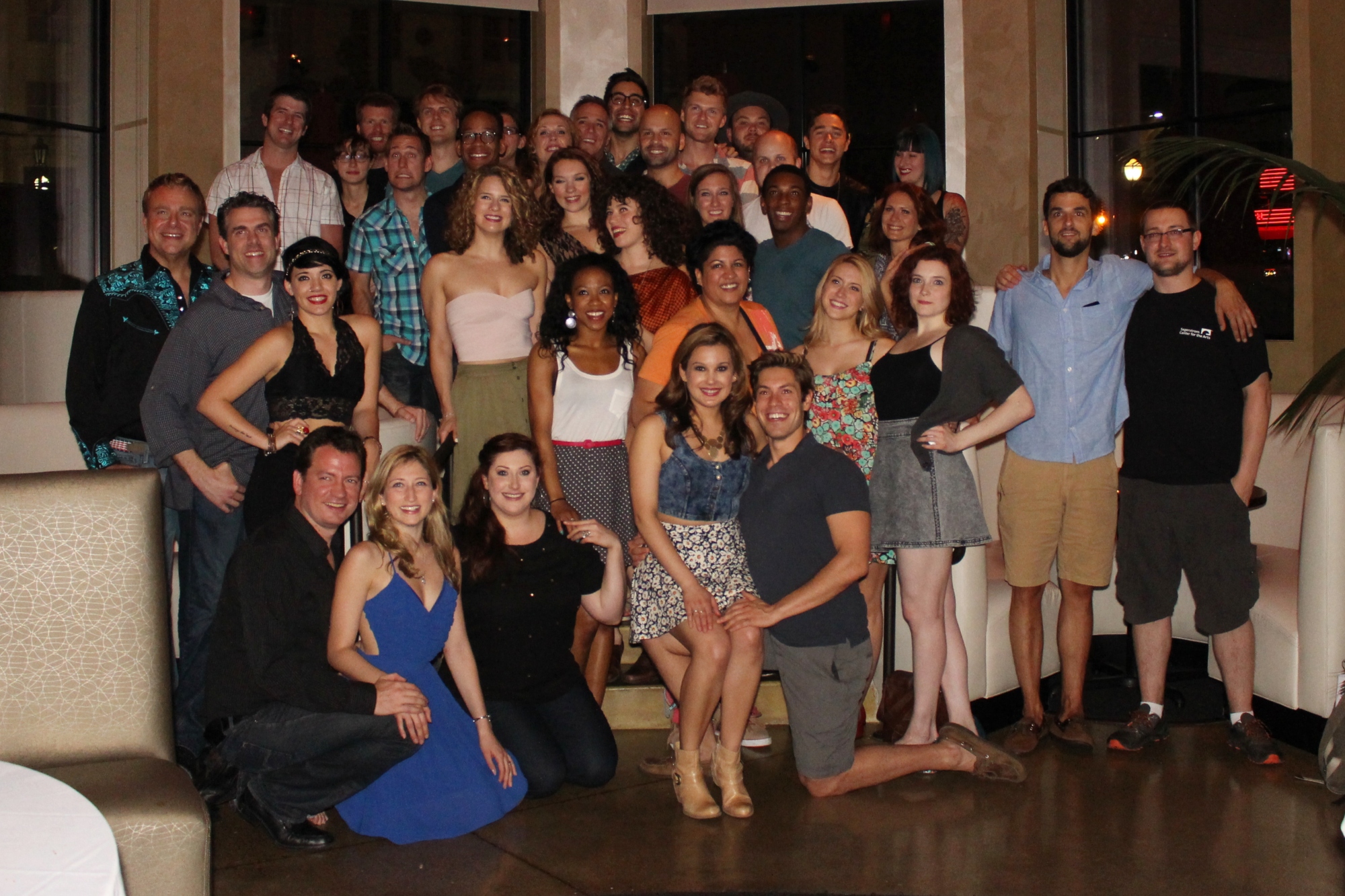 Posted Wednesday, June 4, 2014 | © Photo by The Flash List
"FAB-oh!"
This was the unequivocal assessment randomly declared to us by a passing stranger as she exited the theater on opening night, candidly eager to share her excitement about Dallas Summer Musicals' latest production of Mamma Mia! featuring a 'fabulous' rapid-fire stream of greatest hits by the 1970's-era Swedish pop group ABBA.
A recent pre-show turn of events thrust the exceptionally-talented understudy Rebecca Mason-Wygal into the spotlight in the role of Donna, a former "rock chick supremo" who is reunited with previous band mates Tanya (Gabrielle Mirabella), a wealthy, well-heeled, thrice-divorced 'cougar', and her carefree, please "Take a Chance on Me" cohort Rosie (Carly Sakolove), clearly the Ethel to Tanya's Lucy.
Mamma Mia! is set on a Greek island at Donna's quaint taverna where plans are underway for the wedding of her 20-year-old daughter, Sophie (Chelsea Williams) who is insistent that her father walk her down the aisle. However, according to the 'dot dot dots' between the intimate details of her mother's diary, there are three paternal possibilities: Harry (Mark A. Harmon), a former head banger turned British banker; Bill (Michael Colavolpe), an Indiana Jones-style adventurer who lives out of a knapsack; and Sam (Jeff Drushal), a straight-laced, sandal-clad, American architect. In response to Sophie's invitation, all three men have arrived on the island unbeknownst to her mother Donna or groom-to-be Sky (Chris Stevens) which naturally leads to a behind-the-scenes cat-and-mouse game of solve-the-mystery.
Along with Chelsea Williams' undoubtedly solid performances of "I Have a Dream," "Honey, Honey," and "The Name of the Game," the show also features a fantastic cast of young dancers, funky choreography, flashy costumes (some of which we might delightfully imagine to find if Elvis paid a visit to the Jetsons), along with the revival of Donna and the Dynamos singing "Super Trouper" while "shining like the sun."
So bring your mom, daughter, friend, neighbor, or entire Sisterhood of Traveling Pants to this high-energy musical which has been seen by over 54 million people worldwide. You won't even need your hairbrush microphone for the everybody-on-your-feet, end-of-show encore featuring "Waterloo," "Mamma Mia," and more!
Mamma Mia! runs at Dallas Summer Musicals through Sunday, June 15, 2014 (with a length of approximately 2 hours and 30 minutes including one 15-minute intermission). Tickets range from $20.00 - $95.00, general parking is complimentary, and valet service is provided for $15.00. For more information, see performance details below, get additional general information about Dallas Summer Musicals, or visit the Dallas Summer Musicals website to Get Tickets for this or other upcoming shows.
Editorial Policy: The Flash List is dedicated to providing trustworthy editorial content by maintaining strict ethical standards, journalistic integrity, and credible professionalism regardless of potential compensation as working media. The Flash List discloses receiving tangible and/or intangible benefits for the purposes of providing media coverage for certain events, venues, products, and/or services.
MORE ON THE FLASH LIST
50 Things to Do
Bored? Well, there's definitely no need to be. Take your pick of these fun things to do.
Entertainment News
The latest breaking news and top stories in arts, dining, culture, movies, music, and sports.
Events Calendar
Not everything in town that you could do, but a list of events that you definitely should consider.
Date Night Ideas
From retro candy stores to luxury car rentals, let us help you impress on your next date night out.
Movies in Theaters
See previews of movies coming soon and trailers for films now playing at local theaters.
Go Gallivanting
Our sister website, The Art of Gallivanting, offers extraordinary adventures for ordinary people.