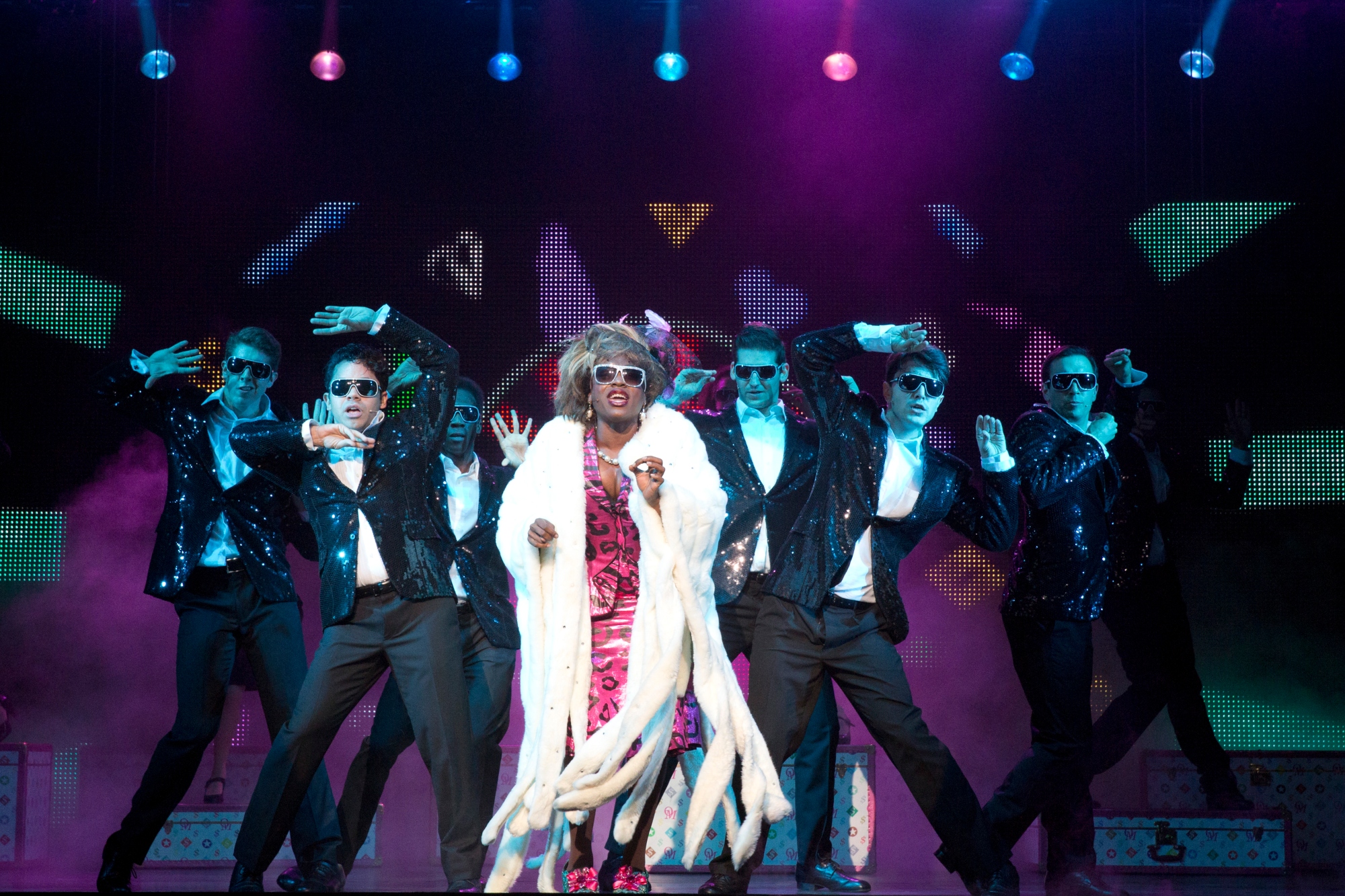 Posted January 29, 2014 | © Photo by Joan Marcus
Ahh, it's like experiencing a magic show! Part of you desperately wants to know how each unique trick is executed, while the other part is content to simply be enchanted by the great illusion. Magicians David Blaine and Teller (of the duo Penn and Teller) have been complimentary and enthusiastic about the show, and David Copperfield even described that he hadn't been so amazed for years.
Through a fascinating combination of theatrical live action, elaborate video technology, and captivating special effects, Ghost The Musical is visually stunning. Adapted from (and faithful to) the now-classic 1990 blockbuster hit film starring (the since late) Patrick Swayze along with Demi Moore, Tony Goldwyn, and Whoopi Goldberg, the production features a book and lyrics by Bruce Joel Rubin (who wrote the original Ghost screenplay, The Time Traveler' Wife, and more) with additional music and lyrics by Grammy Award winners Glen Ballard (who wrote the song "Believe" for Polar Express) and Dave Stewart (half of the groundbreaking 1980's pop duo Eurythmics) as well as interesting slow-motion-to-fast-forward choreography by Ashley Wallen (who's worked with music industry artists like Kylie Minogue, Madonna, Seal, Black Eyed Peas, etc.).
Tony Award-winning director Matthew Warchus (of Matilda fame) keeps the flashy and highly technical action moving at a constant high pace with the layered use of multiple components including video projections and creative lighting (including powerful spotlights that shine celestially bright toward both the stage and audience); and the special effects team which includes designer Paul Kieve (physical magic consultant for the film Harry Potter and the Prisoner of Azkaban) astounds audiences with a remarkable depth of field on stage and the astonishing illusions of subway riders and their bags flying through air in slow motion, a downpour of rain, and the appearance that actors levitate, disappear, reappear, and even 'walk' through a door right before your eyes.
Retaining much of the dialogue of the iconic movie (and several style variations of the familiar "Unchained Melody" tune), the story revolves around charmed-life banker Sam Wheat (an amiable Steven Grant Douglas) and his long-time girlfriend Molly Jensen (Katie Postotnik, whose solid melodic vocals entice you to close your eyes to fully absorb its eloquence), and follows the couple as their lives are drastically altered after Sam is unexpectedly murdered by robber Willie Lopez (Fernando Contreras) as part of a traitorous conspiracy with Sam's close friend and coworker Carl Bruner (the aptly villainous Robby Haltiwanger). Trapped between the present world and the afterlife, Sam attempts to warn Molly of the malicious plot by consulting quack psychic medium Oda Mae Brown (the scene-stealing Carla R. Stewart). While donned in a sparkly headband scarf, oversized jewelry, and a coat of many, many colors, Oda Mae is assisted by two full-figured, white-gloved, tambourine-jangling, backup-singers (Evette Marie White as Clara and Nichole Turner as Louise) who can turn heartfelt hallelujah hymns into soul-filled, full-gospel, Motown-style entertainment in the blink of an eye.
Which is something you won't want to do too much of during the performance. You won't want to miss the famous romantic pottery scene (for which Postotnik was actually trained to throw clay), Sam's lesson from the intensely rapping subway ghost (Brandon Curray) on how to move inanimate objects, Oda Mae Brown's multimillion dollar bank account withdrawal while posing as Rita Miller (and the subsequent charitable giveaway of said funds), Carl's justifiably over-panicked scenes in which he realizes the extorted money is all gone, and the touching moment that Sam ultimately moves into the light, assuring Molly that "The love inside, you take it with you."
Ghost The Musical runs at Dallas Summer Musicals through Sunday, February 9, 2014 (with a length of 2 hours and 30 minutes including one 15-minute intermission, and with tickets ranging from $15.00 - $85.00) and also at Bass Performance Hall in Fort Worth Tuesday, February 11 through Sunday, February 16, 2014. For more information, see performance details below, get additional general information about Dallas Summer Musicals, or visit the Dallas Summer Musicals website to get tickets now.
Editorial Policy: The Flash List is dedicated to providing trustworthy editorial content by maintaining strict ethical standards, journalistic integrity, and credible professionalism regardless of potential compensation as working media. The Flash List discloses receiving tangible and/or intangible benefits for the purposes of providing media coverage for certain events, venues, products, and/or services.
MORE ON THE FLASH LIST
50 Things to Do
Bored? Well, there's definitely no need to be. Take your pick of these fun things to do.
Entertainment News
The latest breaking news and top stories in arts, dining, culture, movies, music, and sports.
Events Calendar
Not everything in town that you could do, but a list of events that you definitely should consider.
Date Night Ideas
From retro candy stores to luxury car rentals, let us help you impress on your next date night out.
Movies in Theaters
See previews of movies coming soon and trailers for films now playing at local theaters.
Go Gallivanting
Our sister website, The Art of Gallivanting, offers extraordinary adventures for ordinary people.