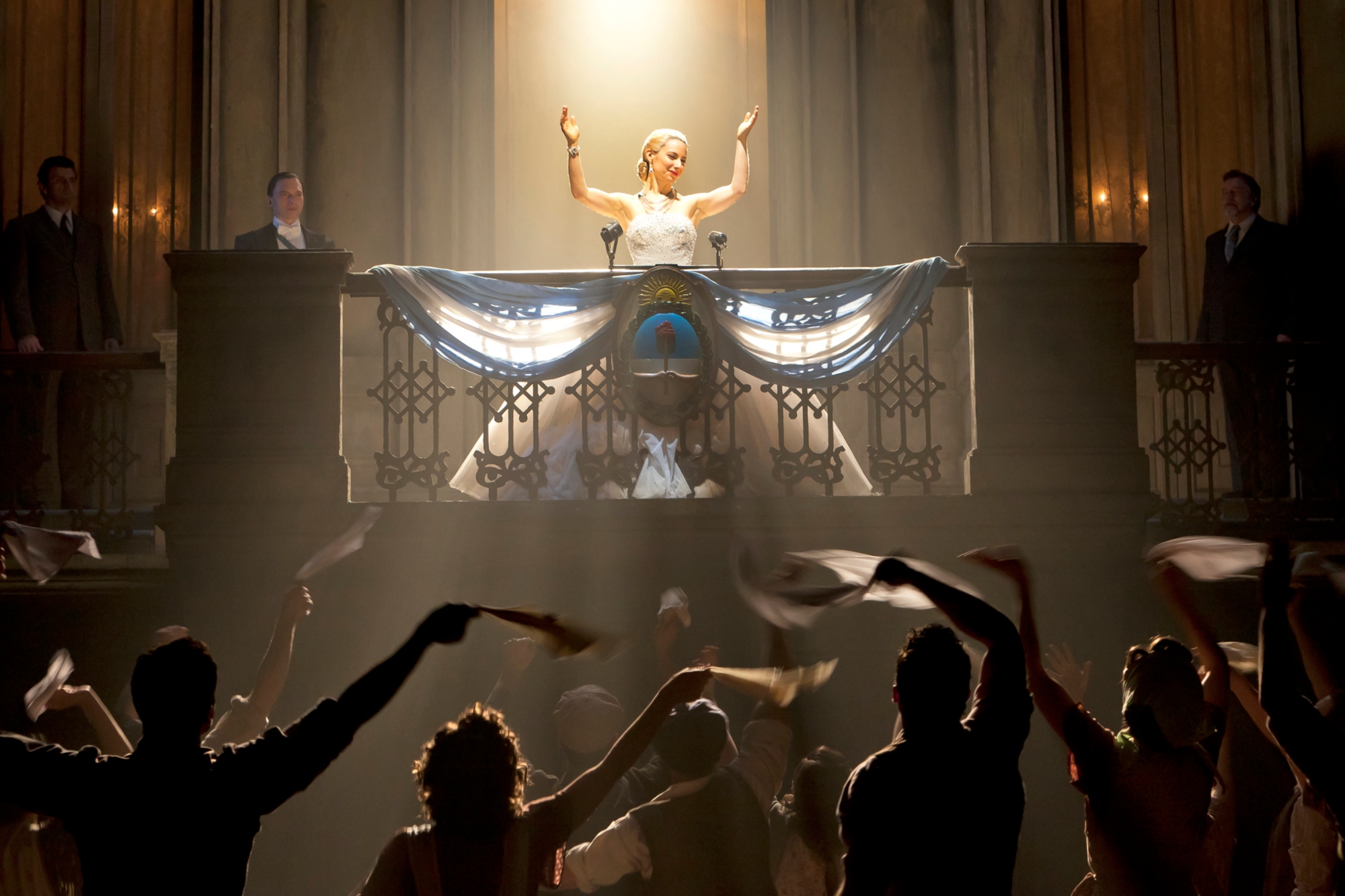 Posted April 16, 2014 | © Photo by Richard Termine
Known as the Spiritual Leader of the Nation, Eva Peron used her beauty and charisma to rise from the slums of Argentina to the presidential mansion as First Lady thereby winning the collective heart of her country before her untimely death in 1952 at age 33. Providing personal and political insights, the detailed storyline of this seven-time Tony Award-winning musical is descriptively narrated by 'voice of the working-class people' Che (the very well-spoken Tony-Award nominee Josh Young notably playing the part as it was originally written).
This determined young actress-turned-social-advocate (played by Caroline Bowman, an original cast member of Kinky Boots on Broadway who rocked DSM audiences a while back when she played the Lady of the Lake in Spamalot) is depicted through a self-made rags-to-riches story of creating what ultimately became an internationally-known cult of personality. In "Goodnight and Thank You," Eva's relational betrayal of tango singer Agustin Magaldi (Christopher Johnstone) and her subsequent ascent up the social ladder to the creme de la creme of Buenos Aires society is respectfully yet comedically indicated by a succession of increasingly luxurious lounging robes bestowed upon her by a string of increasingly wealthy lovers who are each given the boot one by one.
Although Eva's celebrated public life and eventual marriage to Colonel-then-President Juan Peron (Broadway's Sean MacLaughlin) brought international fame and controversial fortune along with mental fatigue and physical exhaustion, Bowman's portrayal during "Don't Cry for Me Argentina" and the couple's duet "I'd Be Surprisingly Good for You" were ardently sung with a beautiful clarity (like the precise focusing of a camera lens or tuning of a radio station). The prevalent use of recitative (the show is almost entirely sung) marks this unique musical (which originally began as a concept album co-produced by Tim Rice and Andrew Lloyd Webber), and the lack of directly spoken dialogue makes this show's discriminatingly specific music somewhat operatic in nature and/or elaborately concert-like ... albeit with a cast of really good backup dancers (choreographed by Tony Award-winner Rob Ashford).
Latin-flavored ballroom moves such as the tango and paso doble along with muted colors and amber lighting in this scenically understated production (directed by Tony and Olivier Award-winner Michael Grandage) offer a historical documentary approach (think Newsies or Les Mis). If put into cable television terms, the show leans more stylistically toward the History channel or an E! True Hollywood Story ... with the brief exceptions of the softly innocent and show-stopping solo performed by Peron's ousted Mistress (Krystina Alabado) and the emotional plea by a woman for a blessing for her infant child (Alison Mahoney, also known by the Food Network as The Singing Baker) which were a little more like heart-wrenching Lifetime dramas.
Evita runs at Dallas Summer Musicals through Sunday, April 27, 2014 (with a length of 2 hours and 15 minutes including one 15-minute intermission, and with tickets ranging from $20.00 - $90.00). For more information, see performance details below, get additional general information about Dallas Summer Musicals, or visit the Dallas Summer Musicals website to get tickets now.
Editorial Policy: The Flash List is dedicated to providing trustworthy editorial content by maintaining strict ethical standards, journalistic integrity, and credible professionalism regardless of potential compensation as working media. The Flash List discloses receiving tangible and/or intangible benefits for the purposes of providing media coverage for certain events, venues, products, and/or services.
MORE ON THE FLASH LIST
50 Things to Do
Bored? Well, there's definitely no need to be. Take your pick of these fun things to do.
Entertainment News
The latest breaking news and top stories in arts, dining, culture, movies, music, and sports.
Events Calendar
Not everything in town that you could do, but a list of events that you definitely should consider.
Date Night Ideas
From retro candy stores to luxury car rentals, let us help you impress on your next date night out.
Movies in Theaters
See previews of movies coming soon and trailers for films now playing at local theaters.
Go Gallivanting
Our sister website, The Art of Gallivanting, offers extraordinary adventures for ordinary people.