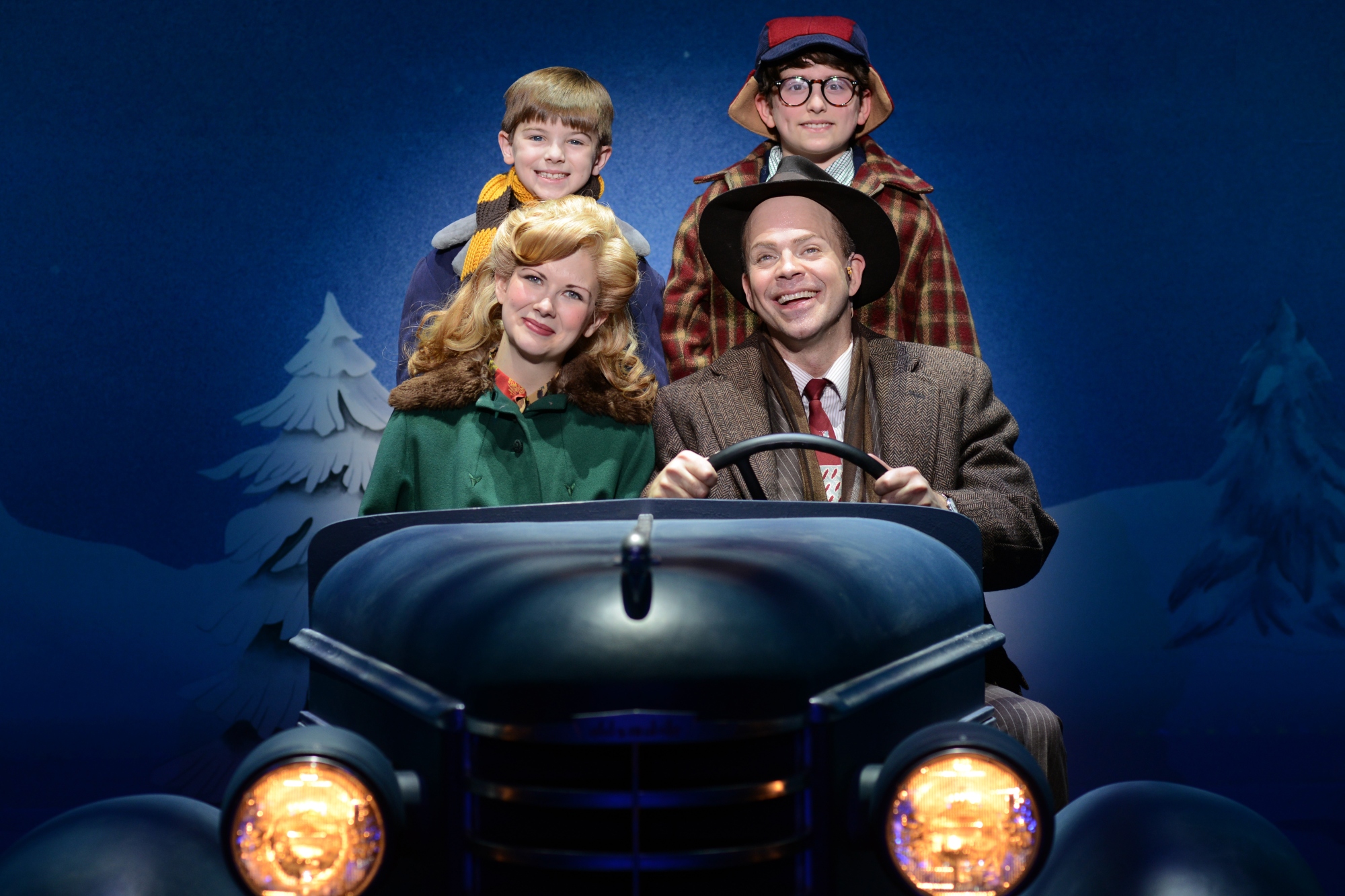 Posted Wednesday, December 3, 2014 | © Photo courtesy of Dallas Summer Musicals
Once upon a time, there was a really spectacular cast assembled to perform in the very first production of Dallas Summer Musicals' 75th anniversary season (that's show #11,623 in case you're wondering). And perhaps it's just a touch of holiday sentimentality on our part, but every single member of this touring cast seems to be right on point and delightfully even better than expected. Based on the classic 1983 movie and nominated for three Tony Awards, the musical version of A Christmas Story is now running at the Music Hall at Fair Park.
Set in another time and another place (1940's Indiana on Cleveland Street), a 30ish-foot snowcapped doll-type house glides forward amidst a wintery snow-globe-inspired stage design. And from there unfolds the heartwarming tale of a young boy's Christmas quest to acquire the gift of his dreams, a coveted Red Rydercarbine-action BB gun.
On opening night, Paper Mill's Colton Maurer was outstanding in the iconic role of nine-year-old Ralphie Parker (alternately played by Evan Gray). Saturated with impressive star-power potential, Maurer's strong voice and remarkable stage presence certainly shine a bright light on his professional future in musical theater.
Actor Chris Carsten narrates as radio personality Jean Shepherd (in an entertaining 'Alton Brown crosses Mr. Carlson from WKRP in Cincinnati' kind of way), while Christopher Swan elicits laughs as Ralphie's dog-dodging, furnace-fighting Old Man whose intensely competitive nature is offset by his satirically-sexy faux-cabaret moves. With a voice as sweetly comforting as the character she plays, Susannah Jones gives a charming portrayal of Ralphie's mother ... even when resolutely pitching in her two cents to the overall anti-gun consensus that "You'll shoot your eye out kid!" Cal Alexander is perfect as little brother Randy, especially with all of his "aahh mom" attitude, petulantly repeated "did naht"s, and puffy-snowsuit-clad "I've fallen and I can't get up" dilemma.
Ralphie's fellow wimps are comprised of a slew of pint-sized child actors including two area students (12-year-old Grace Moore and 10-year-old Peyton Nicholson) who were chosen by choreographer Jason Sparks at local auditions to appear during the tour's Dallas run. Avital Asuleen as Miss Shields joins a tux-clad all-kiddo ensemble in performing a particularly 'dazzly' tap dance number which ironically takes place at a makeshift speakeasy.
So if you find yourself at a loss for where to celebrate the joy of Christmas this holiday season, have no worries. It's "Ralphie to the Rescue" with high-action nostalgic entertainment complete with bully-inspired flagpole-lickin', pink-bunny pajama-wearin', leg-shaped lamp-breakin', and more outrageous shenanigans right up until ...
the end.
With tickets starting at $25, and DSM 3-show mini packs on sale for as low as $55, now is a great time to go see A Christmas Story.
We triple dog dare ya!
Editorial Policy: The Flash List is dedicated to providing trustworthy editorial content by maintaining strict ethical standards, journalistic integrity, and credible professionalism regardless of potential compensation as working media. The Flash List discloses receiving tangible and/or intangible benefits for the purposes of providing media coverage for certain events, venues, products, and/or services.
MORE ON THE FLASH LIST
50 Things to Do
Bored? Well, there's definitely no need to be. Take your pick of these fun things to do.
Entertainment News
The latest breaking news and top stories in arts, dining, culture, movies, music, and sports.
Events Calendar
Not everything in town that you could do, but a list of events that you definitely should consider.
Date Night Ideas
From retro candy stores to luxury car rentals, let us help you impress on your next date night out.
Movies in Theaters
See previews of movies coming soon and trailers for films now playing at local theaters.
Go Gallivanting
Our sister website, The Art of Gallivanting, offers extraordinary adventures for ordinary people.