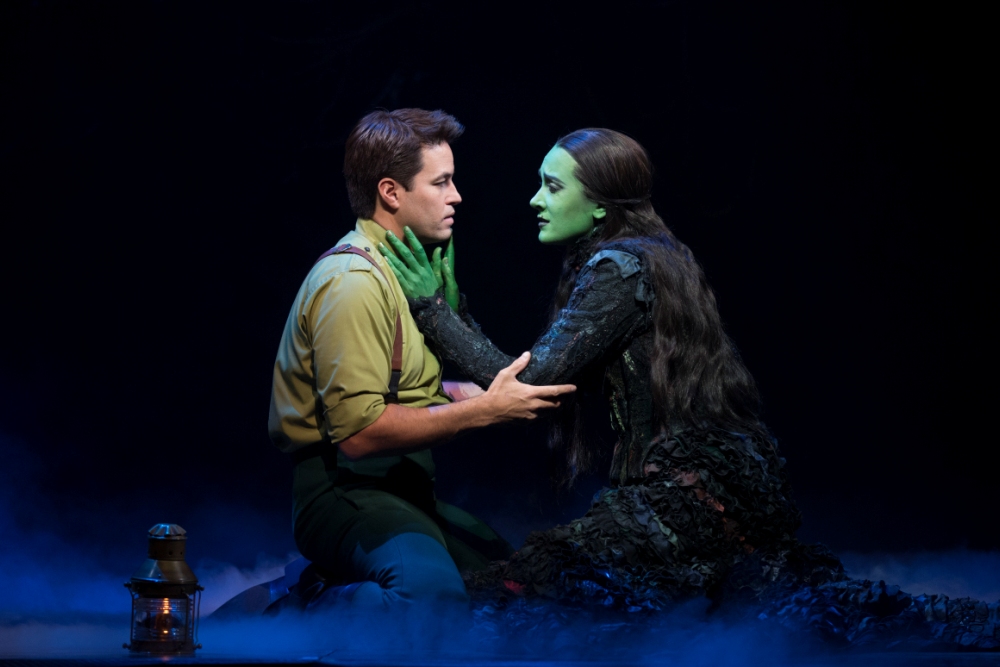 © Photo by Joan Marcus
We're suckers for spectacle.
So when Dallas Summer Musicals brings Wicked to town with its giant mechanical smoke-snorting Time Dragon looming above the stage, famous circus-inspired talking Oz head, elaborate clock motif scenic design, phenomenal cast of actors/singers/dancers portraying a host of colorful characters, and over 200 exquisite costumes each with a unique twisted Edwardian design ... why, it's positively thrillifying!
This iconic one-of-a-kind show, which has been Broadway's highest grossing show for nine consecutive years and the winner of 35 major awards including a Grammy and three Tony Awards, is a wildly entertaining story about two unlikely friends who grow to become the green-skinned Wicked Witch of the West Elphaba (Dee Roscioli) and the immensely popular Glinda the Good (Jenn Gambatese). Jason Daunter, the tour's Production Stage Manager, enticed us on Tuesday by saying, You're going to Oz, and it's this different place; and from the downbeat of the music when the monkeys come out, you know you're going somewhere different. So everything is slightly askew.
Though often considered to be a behind-the-scenes type of prequel to Frank Baum's The Wonderful Wizard of Oz, the story (adapted from the novel Wicked by Gregory Macguire) actually takes place before, during, and after Dorothy and Toto drop in. Roscioli and Gambatese are magical as the two Ozian witches who meet in college and share not only a dorm room but also a common love interest in the hunky yet scandalacious Fiyero (Curt Hansen). Roscioli, who has played the role of Elphaba in more performances than any other actress, was more than sufficiently Amy Farrah Fowler-ish in her humorously pragmatic demeanor; and Gambatese, who starred on Broadway as Jane in Tarzan, was wonderfully perky as the privileged and self-absorbed blonde Glinda who floats onto the stage from overhead amidst a spray of bubbles.
Madame Morrible, the strict sorcery-teaching headmistress at Shiz University (Kim Zimmer, best known as Reva Shayne on Guiding Light) finds herself in cahoots with the unscrupulous and exploitative Wizard (portrayed by Tom McGowan who was also Kenny the station manager on the television show Frasier) and his monkey servant Chistery (Nicky Venditti). Elphaba's tragically beautiful sister Nessarose (Demaree Hill) possessively falls in love with adorable Munchkin Boq (Jesse JP Johnson); and Timothy Britten Parker (who performed on Broadway in Wicked and Rent) sympathetically humanizes Dr. Dillamond, a talking goat whose dismissal as the school's last remaining animal instructor becomes the focus of a discourse on social equality and political corruption.
Like Glinda's first-impression observation of Elphaba, the musical Wicked is unusually and exceedingly peculiar and altogether quite impossible to describe, but there's no doubt that the audience thoroughly enjoyed Stephen Schwartz's collection of beloved hairbrush-in-the-mirror hits which rolled out in succession with highlights being Roscioli's electrifying Defying Gravity (powerfully belted out broom-in-hand while being dramatically hoisted into the air high above the stage floor) coupled with Gambatese's highly amusing and bubble-gummy Popular.
We won't spoil the story's plot intricacies and the surprise twist ending; but Wikipedia has a great complete synopsis if you're interested, although we recommend skipping the last paragraph under Act II if you want to wait for the show to find out how things turn out. There are still great seats available for this fantastically Ozmopolitan event which runs Wednesday, April 10 through Sunday, May 5, 2013 at the Music Hall at Fair Park. Dallas Summer Musicals is also hosting a ticket lottery; so two and half hours before each performance, people who present themselves at the Music Hall box office can have their names placed in a lottery drum from which names will be drawn for a limited number of orchestra (floor level) seats at $25 each (cash only, valid photo ID required, limit two tickets per person).
See additional information below or visit:
RELATED STORIES
Classical Music Terms for Symphony Orchestra
ARTS | TIPS
Need to know the difference between a symphony and the orchestra? An ensemble and a concerto? Fanfare and a requiem?
View, Appreciate, and Discuss Fine Art
ARTS | TIPS
Next time you stroll through a museum, whether or not you figure out what the artist was thinking, here are some questions to get yourself thinking.
Understand, Select, and Attend an Opera
ARTS | TIPS
Opera is an exhilarating showcase of ornate costuming, elaborate scenery, dramatic singing actors, and racy plots about life, sex, and political intrigue.
MORE ON THE FLASH LIST
50 Things to Do
Bored? Well, there's definitely no need to be. Take your pick of these fun things to do.
Entertainment News
The latest breaking news and top stories in arts, dining, culture, movies, music, and sports.
Events Calendar
Not everything in town that you could do, but a list of events that you definitely should consider.
Date Night Ideas
From retro candy stores to luxury car rentals, let us help you impress on your next date night out.
Movies in Theaters
See previews of movies coming soon and trailers for films now playing at local theaters.
Go Gallivanting
Our sister website, The Art of Gallivanting, offers extraordinary adventures for ordinary people.