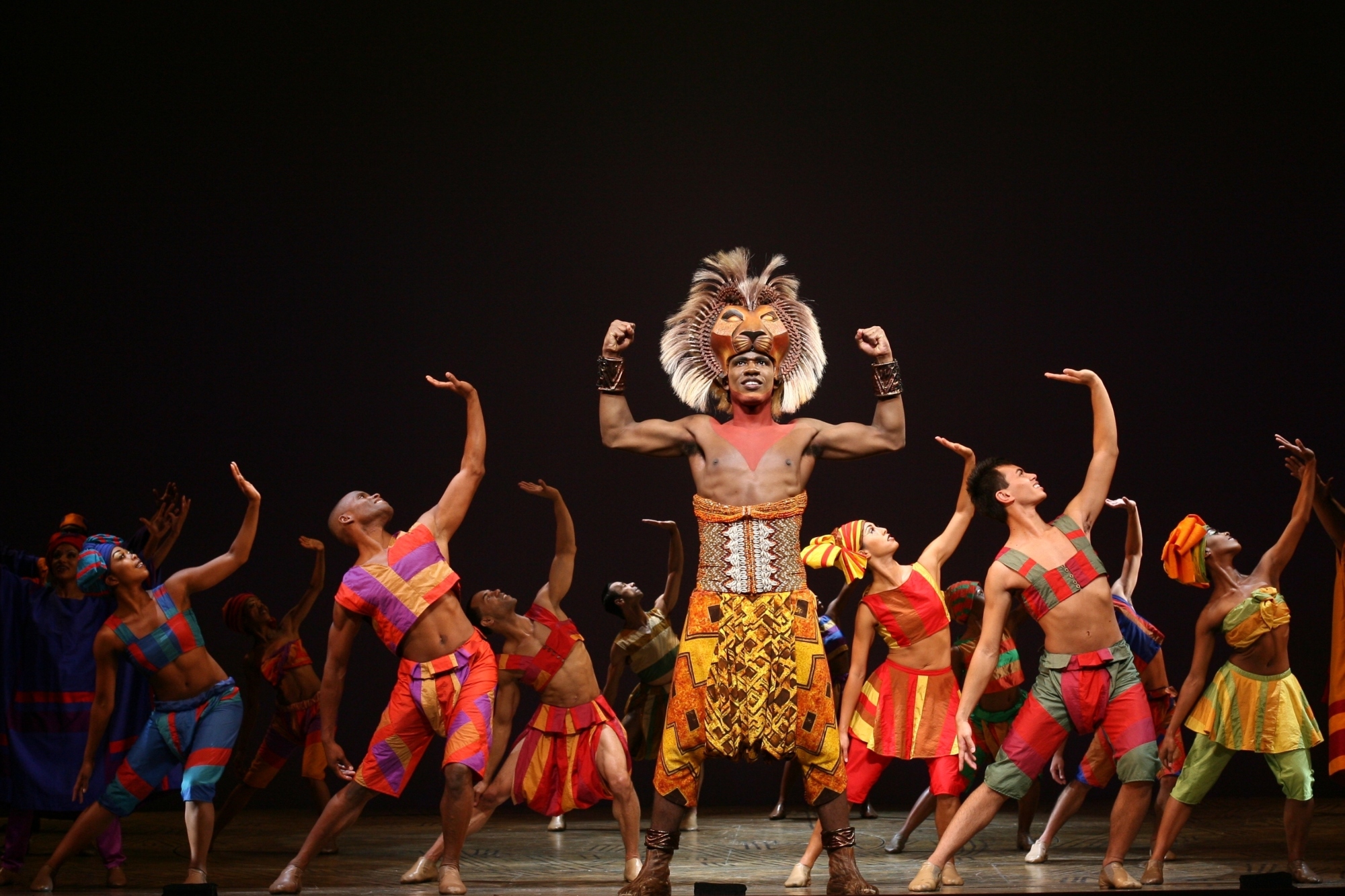 Posted October 9, 2013 | © Photo courtesy of Dallas Summer Musicals
Raking in a lion's share of musical theater revenues, Disney reigns supreme at the top of the performing arts food chain with the highest grossing Broadway show in history.Seen by over 64 million people worldwide, The Lion King (adapted from the 1994 animated movie) has won 70 major awards including Tony Awards for Best Musical, Best Choreography, Best Orchestrations, Best Scenic Design for a Musical, Best Costume Design for a Musical, Best Lighting Design of a Musical, and more.There's a reason that Michael Jenkins, President of Dallas Summer Musicals, continues to bring the show back for Dallas audiences to enjoy.
Live percussionists flank the stage to accompany the orchestra as the show's spectacular pageantry unfolds from the opening moment when the heralding chant of the wise mandrill Rafiki (Brown Lindiwe Mkhize) belts through the air, "Nants ingonyama bagithi Baba [Here comes a lion, Father]," resulting in a stunning parade of 'animals' which makes its way down the aisles from the back of the theater.These elaborate costumes (and the creative manipulations thereof) are full-on visual spectacle, especially when set in silhouette against the various vibrantly colored lighted backdrops. Even the plants come to life.
As in the film, Mufasa (L. Steven Taylor) and Sarabi (Tryphena Wade) celebrate the birth of their new son Simba (Jordan Hall / Nathaniel McIntyre), the future king of the Pridelands.Much to the antagonistic delight of the jealous and scheming uncle Scar (Patrick R. Brown), the curious cub and his best female friend Nala (Nya Carter / Zyasia Page) venture beyond the borders, attempt to ditch their overseer Zazu (Andrew Gorell), and find themselves in a creepy elephant graveyard surrounded by hungry hyenas.Rescued out of the frying pan but soon placed into the fire, tragic events cause Simba to run from home and take up a nomadic residence with the silly meerkat Timon (Nick Cordileone) and gaseous warthog Pumbaa (Ben Lipitz). Later, the grown Simba (Dashaun Young) and Nala (Nia Holloway) are reunited, and Simba returns to the Pridelands to challenge his usurping uncle Scar and claim the rightful place as king.
Actors in this current touring production certainly brought their 'A' game. Patrick R. Brown was brilliant as Scar (bringing, in our opinion, a deliciously edgy Jack Sparrow vibe to the role), and L. Steven Taylor was strong and authoritative as Mufasa yet touching and tender in his interactions with the young Simba.Brown Lindiwe Mkhize amazed and amused repeatedly as the exotically speaking Rafiki, and Andrew Gorell was whimsically entertaining as the feisty majordomo bird Zazu.
The art of puppetry throughout the evening was beyond magnificent (including the specialty of the cheetah performed by Kendra Moore) with puppeteers mimicking the gestures and facial expressions of their oversized counterparts thereby providing double the character experience. Props and set simulations such as the onstage stampede and wired-actor slow-motion cliff falls were theatrically fascinating; and familiar pop tunes like Elton John and Tim Rice's Oscar-winning "Can You Feel the Love Tonight?" and "Hakuna Matata" along with "I Just Can't Wait to Be King" offered a contemporary foot-tapping enhancement to the smooth African rhythms.
Check the DSM website for ticket availability for this magical production which runs at Fair Park through Sunday, October 20, 2013.The show is perfectly suitable for children young at heart and just plain young. Throughout the substantial run time of 2 hours and 45 minutes (with 15 minute intermission), even the tiniest of audience members were mesmerized from beginning to end and we never heard one fussy peep out of anyone.
Be sure to arrive quite early though, due to significant crowd and parking considerations.The show takes place during the State Fair of Texas, and the Music Hall parking lots (normally free) are temporarily enclosed within the confines of the fairgrounds.State Fair of Texas valet parking service is available for $30, and self parking is available for $15 with complimentary tram shuttle service that runs to and from the Music Hall.There are also a number of less expensive lots surrounding the Fair Park area, and taking the DART green line (which drops off at Fair Park Station within very short walking distance to the Music Hall) is an excellent alternative. Admission to the State Fair of Texas is included with your ticket on the same day as your performance.
For more information, visit the Dallas Summer Musicals website to get tickets now.
Editorial Policy: The Flash List is dedicated to providing trustworthy editorial content by maintaining strict ethical standards, journalistic integrity, and credible professionalism regardless of potential compensation as working media. The Flash List discloses receiving tangible and/or intangible benefits for the purposes of providing media coverage for certain events, venues, products, and/or services.
MORE ON THE FLASH LIST
50 Things to Do
Bored? Well, there's definitely no need to be. Take your pick of these fun things to do.
Entertainment News
The latest breaking news and top stories in arts, dining, culture, movies, music, and sports.
Events Calendar
Not everything in town that you could do, but a list of events that you definitely should consider.
Date Night Ideas
From retro candy stores to luxury car rentals, let us help you impress on your next date night out.
Movies in Theaters
See previews of movies coming soon and trailers for films now playing at local theaters.
Go Gallivanting
Our sister website, The Art of Gallivanting, offers extraordinary adventures for ordinary people.