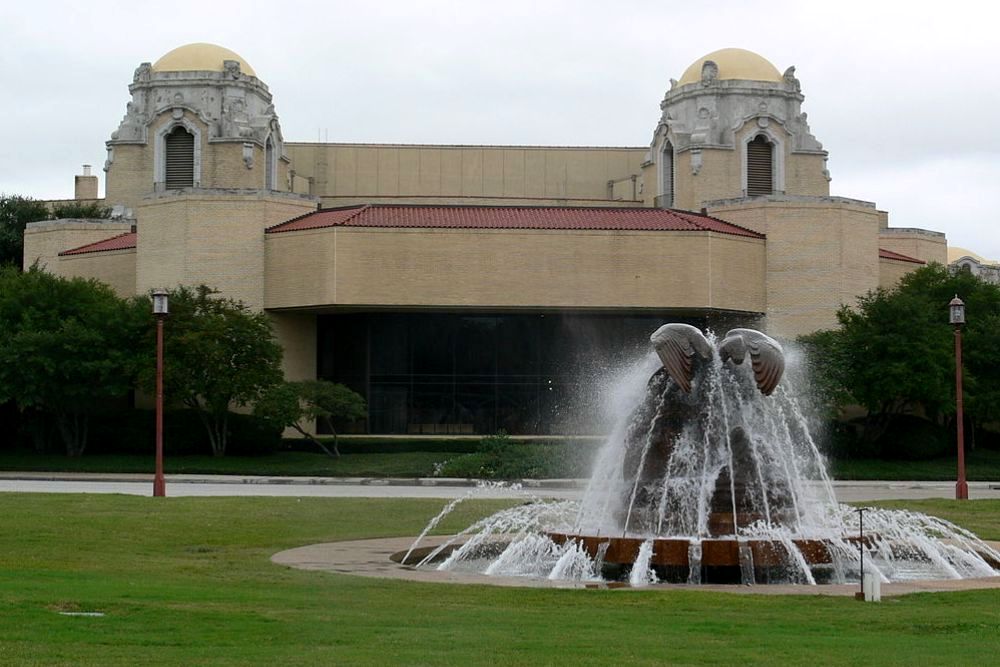 Posted June 5, 2013 | © Photo by Andreas Praefcke
It's said that great undiscovered talent can be found in many a church choir throughout the country, hidden like candles under a basket.But shining bright this month like a neon-lit city on a hill are members of the Queen of Angels disco show choir, boogieing down in the touring production of Sister Act which opened Tuesday night at Dallas Summer Musicals.
This Whoopi Goldberg-produced show, based on the 1992 movie, sprinkles witty one-liners into the straightforward story of wannabe diva Deloris Van Cartier (portrayed with sass and class by Ta'Rea Campbell, best known for playing Nala in The Lion King on Broadway).When Deloris witnesses a murder committed by her gangster boyfriend Curtis (Kingsley Leggs), concerned police officer "Sweaty" Eddie (E. Clayton Cornelious) hides her in a convent where Deloris uses her God-given grooves to inspire the otherwise reserved nuns by exhorting, "Raise Your Voice."A live orchestra (conducted by Brent-Alan Huffman) provides the showcase for this cast of top-notch Broadway veterans, and understated set designs are highlighted by flashy stained-glass window panes in the gothic cathedral which light up like a Saturday Night Fever dance floor.
Hollis Resnik as the austere Mother Superior delivers the cleverly-written dialogue with super-clear enunciation and every word of her "Haven't Got a Prayer" was heavenly. It was Lael Van Keuren however, directly from the original cast of Sister Act on Broadway, in the role of Mary Robert that garnered the most enthusiastic reaction of the evening, receiving high praise for the 'wow' factor evident in her performance of "Life I Never Led" (view a clip here).
While the blinged-out Monsignor O'Hara (Richard Pruitt) gets in touch with his inner Barry White and negotiates a real estate transaction while rotating in and out of the confessional booth like a mix-up episode of Three's Company, the sisters give a humorous Schoolhouse Rock-type lesson on why "It's Good to be a Nun" and the eldest member of the cloister does a little Sugar Hill Gang inspired rappin' (think Estelle Getty's Sophia from Golden Girls).In a determined attempt to allure the religious ladies into handing over the evading Deloris, a cat-and-mouse chase ensues involving side-kick bad-guys Pablo (Ernie Pruneda), TJ (Texas native Charles Barksdale), and Joey (Todd A. Horman, whose "master of romance" moves displayed during "Lady in the Long Black Dress" were sexy ... um, in a Peter Griffin sort of way).
Sister Act runs at Dallas Summer Musicals through Sunday, June 16, 2013 (with a length of 2 hours and 30 minutes including one 15 minute intermission) and also at Bass Hall Tuesday, June 18 - Sunday, June 23, 2013. For more information, visit the Dallas Summer Musicals website to get tickets now.
Editorial Policy: The Flash List is dedicated to providing trustworthy editorial content by maintaining strict ethical standards, journalistic integrity, and credible professionalism regardless of potential compensation as working media. The Flash List discloses receiving tangible and/or intangible benefits for the purposes of providing media coverage for certain events, venues, products, and/or services.
MORE ON THE FLASH LIST
50 Things to Do
Bored? Well, there's definitely no need to be. Take your pick of these fun things to do.
Entertainment News
The latest breaking news and top stories in arts, dining, culture, movies, music, and sports.
Events Calendar
Not everything in town that you could do, but a list of events that you definitely should consider.
Date Night Ideas
From retro candy stores to luxury car rentals, let us help you impress on your next date night out.
Movies in Theaters
See previews of movies coming soon and trailers for films now playing at local theaters.
Go Gallivanting
Our sister website, The Art of Gallivanting, offers extraordinary adventures for ordinary people.