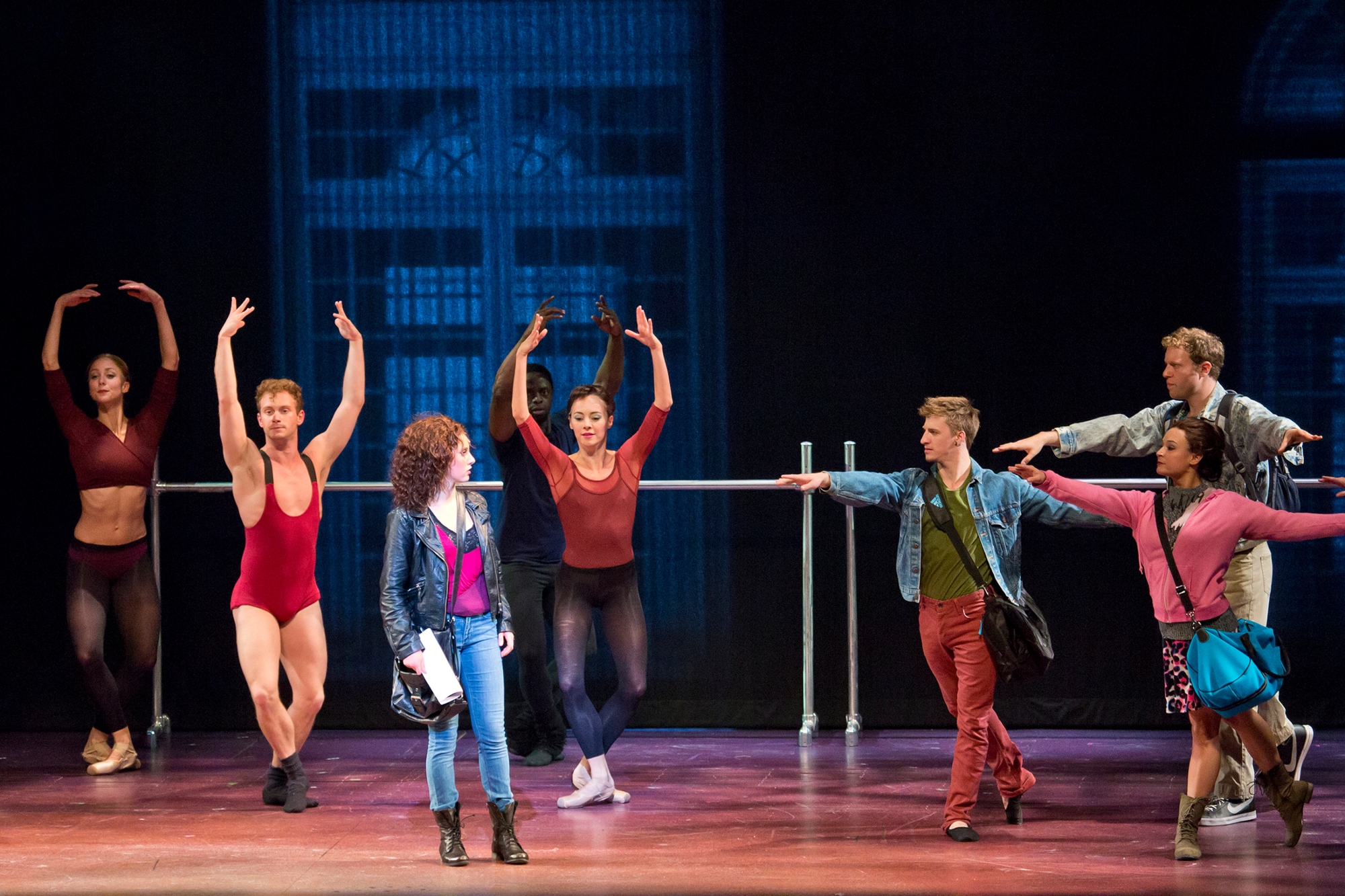 Posted: June 27, 2013 | © Photo by Jeremy Daniel
Dallas Summer Musicals is 'making it rain' over at the Music Hall at Fair Park.
In a stage adaptation celebrating the 30th anniversary of the popular 1983 film, Flashdance The Musical not only recreates the movie's iconic water and dance scenes, but also features well-known hits like "Maniac," "Manhunt," "Gloria," "I Love Rock & Roll," and the award-winning title track "Flashdance - What a Feeling" along with 16 brand new songs by Robbie Roth and Robert Cary.
With direction and choreography by Sergio Trujillo (Jersey Boys, Memphis), this fast-paced, high-energy production tells the story of Alex(andra) Owens (Jillian Mueller), a Pittsburgh steel mill welder by day and bar dancer by night who has dreams of attending the prestigious Shipley Dance Academy. While Mueller pulls from her triple threat experience in acting, singing, and (currently a lot of) dancing, she's surrounded by a notably strong cast of performers including break dancers and ballerinas who intermittently provide the onstage substance of Alex's dreamy aspirations. Matthew Hydzik is solid in the role of Alex's boss 'slash' love interest Nick, and perky petite blonde Kelly Felthous plays best friend Gloria with what seems to be a sweetly humorous channeling of talent inspired by Kristin Chenowith, Amy Poehler, and Kristen Bell.
The fabulous DeQuina Moore and Katie Webber shine as fellow dancers at the local struggling-to-stay-afloat bar where Lawrence E. Street stays innovative as owner Harry and David R. Gordon provides the side story of New York bound wannabe comedian Jimmy. Jo Ann Cunningham is fitly stern as Alex's elderly mentor Hannah, a retired dancer who enjoys her Percodan served with champagne; and Christian Whelan is appropriately skeezy as C.C., manager of the comparatively upscale gentleman's club where his less-than-ethical business practices demonstrate that, honey, he definitely ain't no gentleman.
Combining 80's-era costumes and allusions (such as a vintage puffy vest, some rad moonwalking, and a Grace Jones impersonation) with contemporary LED video screen technology providing sophisticated backdrop images, Flashdance The Musical is sexy (expect to see some well-toned bare derrieres peeking out from under various dance costumes and workout attire) without being overly provocative. Power ballads, catchy tunes, and energetic dance numbers serve to give the show a feel that's less like a traditional symphony-accompanied singing play and more like a pop/rock concert jam session with really dynamic back-up dancers.
After all, according to Madonna, "music makes the people come together."
Flashdance The Musical runs at Dallas Summer Musicals through July 7, 2013 with tickets ranging from $15.00 - $85.00. For more information, visit the Dallas Summer Musicals website to get tickets now.
Editorial Policy: The Flash List is dedicated to providing trustworthy editorial content by maintaining strict ethical standards, journalistic integrity, and credible professionalism regardless of potential compensation as working media. The Flash List discloses receiving tangible and/or intangible benefits for the purposes of providing media coverage for certain events, venues, products, and/or services.
MORE ON THE FLASH LIST
50 Things to Do
Bored? Well, there's definitely no need to be. Take your pick of these fun things to do.
Entertainment News
The latest breaking news and top stories in arts, dining, culture, movies, music, and sports.
Events Calendar
Not everything in town that you could do, but a list of events that you definitely should consider.
Date Night Ideas
From retro candy stores to luxury car rentals, let us help you impress on your next date night out.
Movies in Theaters
See previews of movies coming soon and trailers for films now playing at local theaters.
Go Gallivanting
Our sister website, The Art of Gallivanting, offers extraordinary adventures for ordinary people.