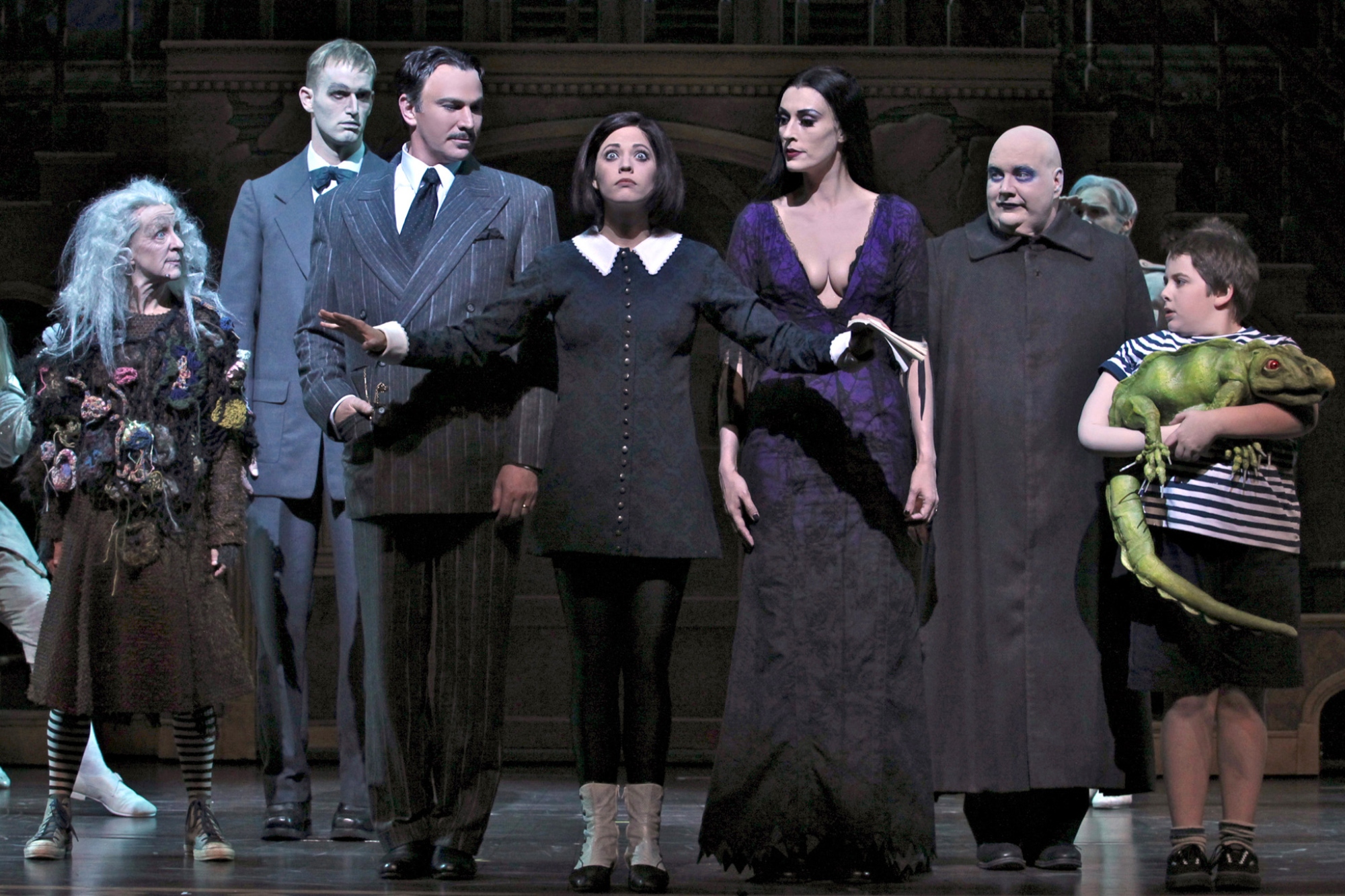 Posted October 5, 2012 | © The Flash List
Dah dah dah dah. Snap. Snap.
Dah dah dah dah. Snap. Snap.
It's altogether spoofy,
And Gomez is quite goofy.
Then Pugsley slips a roofie
In The Addams Family!
The living, dead, and 'undecided' members of the Addams family all come vibrantly alive for this macabre musical comedy which begins one dark night as relatives (young and very, very old) gather for a traditional family reunion ritual amidst the "intoxicating smell" of the foggy graveyard.
Various kindred spirits arise from their cryptic resting places (wonderfully costumed in pale makeup and drab blueish-white garb depicting a caveman, conquistador, Indian, flapper girl, and more) to join in fantastic Latin-influenced line-dance numbers including the Bunny Hop and Twist.When the cemeterial party's over, Uncle Fester (Blake Hammond) blocks the ancestors' return to their graves due to a sobering family crisis.Wednesday Addams is getting married to a 'normal' guy.
With a spectacular cast of Tony Award nominees, The Addams Family (originally created by American cartoonist Charles Addams and based on the 1960's television series) explores every father's nightmare.With love wafting through the air like the stench of the Parisian sewer system, secrets are discovered, loyalties are tested, and hearts are pierced like a crossbow arrow bolting through an apple.
Wednesday (Cortney Wolfson), typically known for her far-less-than-sunny disposition, attempts to manage her burgeoning affections for Lucas Beineke (Curtis Holbrook) as she's unexpectedly having trouble resisting "string quartets and Chia Pets, and afternoon banana splits."Wolfson's performance of "Pulled [in a New Direction]" which she sings while torturing brother Pugsley (Patrick D. Kennedy) in chains on the rack (much to his delight) is one of several of this production's showstoppers.
Douglas Sills is charming and charismatic as the super-suave patriarch Gomez Addams who is torn between his daughter's wishes and the determined expectations of his sexy wife Morticia (Sara Gettelfinger) to keep her family intact just the way it is. When Wednesday asks for "One Normal Night" for a one-time meet-and-greet evening with her fiance's parents, Grandma (Pippa Pearthree) questions the definition of normal, and the light-bulb-illuminating Uncle Fester attests that "normal is hard to attain."So when the famous doorbell rings and Lurch (Zachary James) slowly and gruntingly opens the heavy front door of the decrepit mansion as the Middle-American Mal Beineke (Martin Vidnovic) arrives with his cheesy-poem-reciting wife Alice (Gaelen Gilliland), mayhem naturally ensues.
Pugsley swipes a vile of acrimonium from the stash of his peyote totin' psychedelic-era-protest-singing Grandma with the hopes of luring Wednesday back into her dark right mind, but when a chalice containing the potion is mistakenly slipped to the wrong person during the customary game of "Full Disclosure," passionate (and passion-less) matters of the heart are unveiled during an elaborate dinner party scene that unravels in to uproarious chaos.
But all's well that ends well (thanks in part to a few magical, slow-mo, Matrix-inspired moves).Love is rekindled, relationships are renewed, and even Uncle Fester finds himself in a long-distance relationship ... with the moon.
The Addams Family is fun family entertainment, and runs through Sunday, October 21, 2012 (during the State Fair of Texas) with a running time of 2 hours and 30 minutes (including one 15-minute intermission). Performance details below.
Editorial Policy: The Flash List is dedicated to providing trustworthy editorial content by maintaining strict ethical standards, journalistic integrity, and credible professionalism regardless of potential compensation as working media. The Flash List discloses receiving tangible and/or intangible benefits for the purposes of providing media coverage for certain events, venues, products, and/or services.
MORE ON THE FLASH LIST
50 Things to Do
Bored? Well, there's definitely no need to be. Take your pick of these fun things to do.
Entertainment News
The latest breaking news and top stories in arts, dining, culture, movies, music, and sports.
Events Calendar
Not everything in town that you could do, but a list of events that you definitely should consider.
Date Night Ideas
From retro candy stores to luxury car rentals, let us help you impress on your next date night out.
Movies in Theaters
See previews of movies coming soon and trailers for films now playing at local theaters.
Go Gallivanting
Our sister website, The Art of Gallivanting, offers extraordinary adventures for ordinary people.