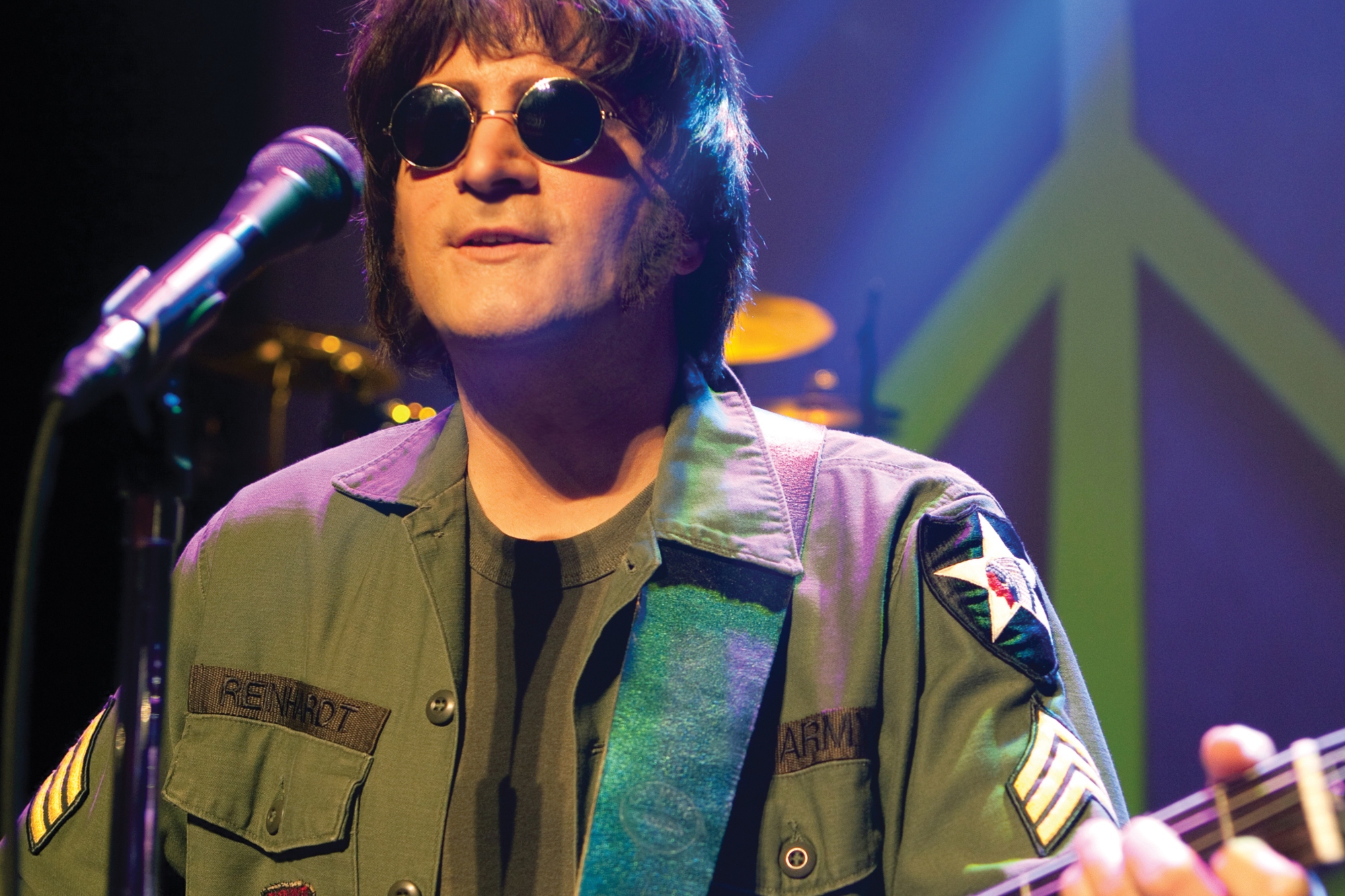 Posted April 25, 2012 | © Photo of Steve Landes as John Lennon by Cylla von Tiedemann
The very first vinyl 45 to spin on our little portable record player was The Beatles' "Revolution."Hearing that heavy groove and watching that apple turn may be a seed at the core of our intense love of rock 'n' roll. You too, we suspect, have your own nostalgic memories of the band's influence; and now in Rain, the retro hit-after-hit Beatles tribute show, you can celebrate the group's iconic moments in a multi-media time capsule that reels audience members back through the decades like a time warp.
Performing thirty or so songs from a broad spectrum of The Beatles' discography live onstage, the faux Fab Four in the Dallas show at the Music Hall at Fair Park starred rhythm guitarist Steve Landes from the original Broadway cast (as John Lennon), bassist Mac Ruffing (Paul McCartney), lead guitarist Tom Teeley (George Harrison), drummer Doug Cox (Ringo Starr) as well as Mark Beyer on keyboard and sound effects.
The curtain goes up as a recorded Ed Sullivan announcement introduces us to the "youngsters from Liverpool" and we are quickly whisked back to a reenactment of the boys' performance on February 9, 1964.A suspension of reality is easily achieved, aided by dual video screens featuring montages of the British Invasion, President Kennedy, hula hoops, and 'screaming fans in what are now vintage cat eye glasses. Four mop-topped heartthrobs appear on stage in suits and skinny ties including a left-handed Paul with his upside down bass, and lighted applause signs let us know when to show our appreciation for the condensed, power-packed versions of "I Want to Hold Your Hand," "All My Loving," "A Hard Day's Night," and "Yesterday" (during which the audience was invited to sing along).
Next, Fred Flintstone and Barney Rubble take a Winston smoke break before pandemonium erupts as we're dropped into Shea Stadium where crowd control barricades pepper the stage and historical footage of police tapping the cheeks of nearly faint swooning female fans coincides with "I Feel Fine," "Day Tripper," and more.But even that was just a teaser before a neon rainbow of colored spotlights poured over a dazzling Sgt. Pepper's Lonely Hearts Club Band who dressed in day-glo military-style outfits and engaged the enthusiastic crowd with "Eleanor Rigby," "Strawberry Fields Forever," "When I'm Sixty-Four," and others. Video projections flashed flower-power images, yellow submarines, and a kaleidoscope of trippy, psychedelic, amorphous shapes accompanied by lyrics about getting high "With a Little Help from My Friends" (despite the preshow warning not to smoke ... anything.)
After a 20-minute intermission (conveniently counted down by an onscreen flip number clock), the Summer of Love session brought us a slow, moody, acoustic guitar set with an eastern spiritual vibe including a yin and yang symbol and "All You Need is Love" posters, as well as eerie dry ice fog and unique sound effects for a more upbeat "I Am the Walrus," "Hello, Goodbye," etc. before we finished up on a London rooftop in the Abbey Road era rockin' to "Come Together" and "Get Back" with a mustached, denim-clad George Harrison and a gum-chewing John Lennon sporting long hair, round glasses, and iconic white suit.
Of course every good rock concert needs an encore, and Rain obliges with "Let It Be" and "Hey Jude" as baby boomers were still 'twisting and shouting' and the grade school aged girl standing in the seat next to us was belting out the lyrics to "Give Peace a Chance."
George Harrison once said, "I really believe that after we're gone, The Beatles will exist without us;" and in Rain (also a song on the B side of "Paperback Writer"), Beatle-loving fans can immerse themselves in what is part interactive concert and part theatrical stage production with an added touch of entertaining history lesson.See the show at the Music Hall at Fair Park now through Sunday, April 29, 2012 before the crew heads off to Nashville after that. And feel free to dress the part; outfits we saw on opening night ranged from business attire to jeans and concertwear, groovy shirts, macramvests, long head scarves, and hippie style tie dyed fabrics.So show your peace and love, baby, and your exuberant face just might end up on the big screen as well!
Editorial Policy: The Flash List is dedicated to providing trustworthy editorial content by maintaining strict ethical standards, journalistic integrity, and credible professionalism regardless of potential compensation as working media. The Flash List discloses receiving tangible and/or intangible benefits for the purposes of providing media coverage for certain events, venues, products, and/or services.
MORE ON THE FLASH LIST
50 Things to Do
Bored? Well, there's definitely no need to be. Take your pick of these fun things to do.
Entertainment News
The latest breaking news and top stories in arts, dining, culture, movies, music, and sports.
Events Calendar
Not everything in town that you could do, but a list of events that you definitely should consider.
Date Night Ideas
From retro candy stores to luxury car rentals, let us help you impress on your next date night out.
Movies in Theaters
See previews of movies coming soon and trailers for films now playing at local theaters.
Go Gallivanting
Our sister website, The Art of Gallivanting, offers extraordinary adventures for ordinary people.