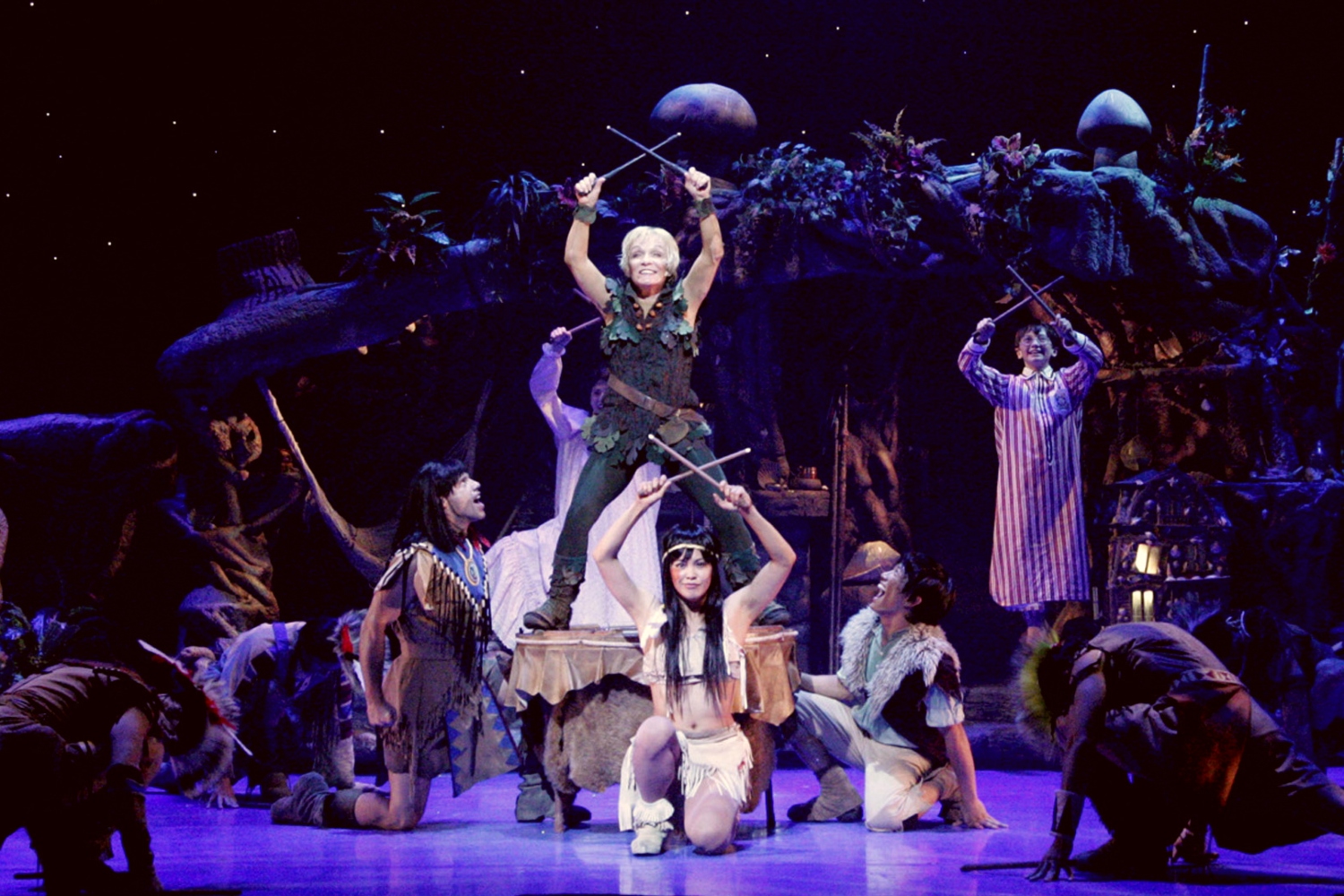 Posted July 10, 2012 | © Photo courtesy of Dallas Summer Musicals
Quick, c'mon, take flight with us just past "the second star on the right and straight on 'til morning.""This way to Neverlaaaaand"!
After her phenomenally successful career as an Olympic gymnast followed by 18 years with ABC Sports as an expert commentator, TonyAward nominee Cathy Rigby is Peter Pan!This two-time Emmy award winning and two-time Tony award nominated production takes audiences on a magical whirlwind journey from the finely appointed nursery of the Darling family's London home, to the Lost Boys' underground lair on the island of Neverland, through the wicked-mermaid-infested waters of the foggy haunted lagoon, and onto Captain Hook's seemingly bewitched ship ('decked' out with skull and cross bone motif) where the final climactic battle unfolds.
Our story begins as the regally elegant Mrs. Darling (Broadway and television actress Kim Crosby) and the austere Mr. Darling (Broadway actor Brent Barrett) are preparing to leave for an evening out.Soon after their departure, the windows of the Darling children's nursery fling open, and Peter Pan (Cathy Rigby) flies into the room amidst a cloud of glittery fairy dust.Peter has returned to reclaim his shadow, which he lost in an earlier encounter with the nursemaid, a big furry dog named Nana (played comically and with wonderful canine nuances by Clark Roberts).
Rigby's version of the mischievous immortal youth is spot on from the raspy English-accented voice to the childlike mannerisms of foot shuffling, top-of-hand nose-wiping, lazing around on the furniture, and more.The carefree Peter Pan fiddles around with the children's toys, does cartwheels off the furniture, and performs handstands on the banisters, determined that "no one's going to catch me and make me a man."The spectacular mid-air flying sequences in this show (choreographed by "Fly Guy" Paul Rubin) are mesmerizing (see video) and include impressive spins, flips, acrobatics, and even a finale flight over the top of the audience. Rigby (who will be - are you kidding us - 60 this year) makes it look effortless.
Peter entices the three Darling children, Michael (Julia Massey), John (Cade Canon Ball), and Wendy (Krista Buccellato), to accompany him on an adventure to Neverland.Buccellato's brimming talent is certainly up to par for this role, and she doesn't come across as an actress attempting to play the part of the sweet and courageous Wendy; but rather, simply as Wendy herself.
In Neverland, the four meet up with the Lost Boys and a band of friendly Indians including Tiger Lily (dancer Jenna Wright) with whom they perform "Ugg a Wugg," a fantastic, fast-paced, eight-minute, 'Stomp'-type dance and drumming number (for which they received wild and extended audience applause). Soon, however, they must "prepare to meet thy doom" as the Grinch-like, croc-o-phobic villain Captain Hook (also played by the charismatic Brent Barrett), shows up with his silly sidekick Smee (James Leo Ryan) and their team of tango-dancing, tambourine-playing, madcap, swashbuckling pirates.A slithering, red-eyed crocodile (also hilariously played on all fours by Clark Roberts) makes several appearances with a wish to bite off more than just Hook's hand (which, according to Smee, Hook should consider a compliment).
Throughout all the ensuing kidnapping, sword fighting, and plank walking, this show is family friendly and very entertaining for all ages (from tiny tots to those who are "ever so much more than twenty") ... especially when Tinkerbell drinks poison in order to save Peter's life and the 'believing' audience is called upon to then save her life.
So fly on over to the Music Hall at Fair Park where you can relive your childhood with timeless songs like "I Won't Grow Up," "I'm Flying," and so much more.
"Just think lovely thoughts, and up you go"!
Peter Pan runs through Sunday, July 22, 2012 with a run time of approximately two hours and twenty minutes (which includes a twenty-minute intermission) and ticket prices from $15.00 - $75.00. Seat cushions are available to boost up the younger, smaller attendees.Performance details below.
Editorial Policy: The Flash List is dedicated to providing trustworthy editorial content by maintaining strict ethical standards, journalistic integrity, and credible professionalism regardless of potential compensation as working media. The Flash List discloses receiving tangible and/or intangible benefits for the purposes of providing media coverage for certain events, venues, products, and/or services.
MORE ON THE FLASH LIST
50 Things to Do
Bored? Well, there's definitely no need to be. Take your pick of these fun things to do.
Entertainment News
The latest breaking news and top stories in arts, dining, culture, movies, music, and sports.
Events Calendar
Not everything in town that you could do, but a list of events that you definitely should consider.
Date Night Ideas
From retro candy stores to luxury car rentals, let us help you impress on your next date night out.
Movies in Theaters
See previews of movies coming soon and trailers for films now playing at local theaters.
Go Gallivanting
Our sister website, The Art of Gallivanting, offers extraordinary adventures for ordinary people.