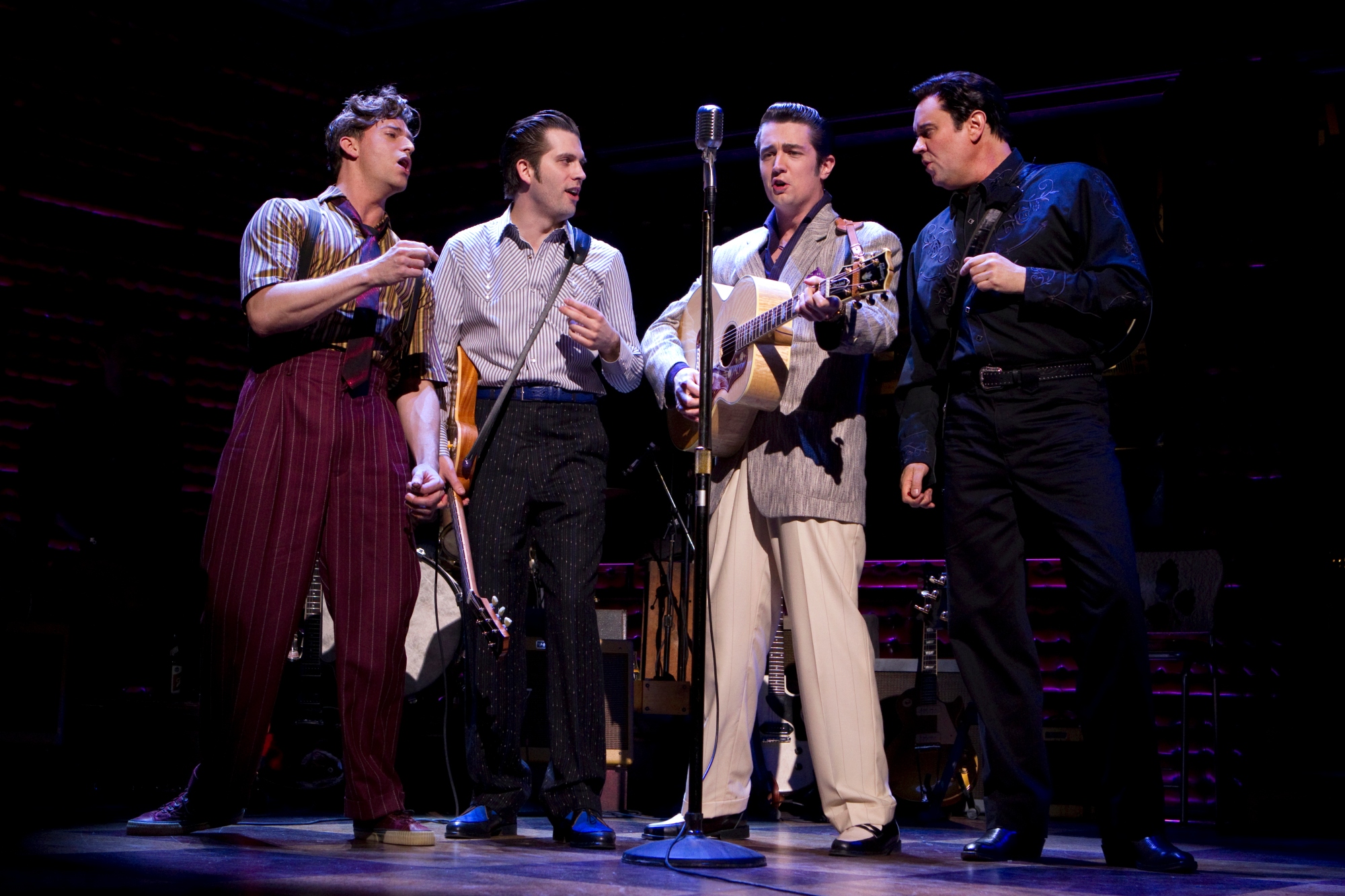 Posted March 7, 2012 | © Photo courtesy of Dallas Summer Musicals
The hits just keep on coming!
In a season loaded with snappy nostalgic tunes, Dallas Summer Musicals delivers the goods again with Million Dollar Quartet, an exhilarating concert and story inspired by the famed December 4, 1956 impromptu recording session that became known as one of the greatest rock 'n' roll jam sessions in history. Set at Sun Record Studios in Memphis, Tennessee, a terrific cast of musician/actors portray rock 'n' roll icons Elvis Presley, Johnny Cash, Jerry Lee Lewis, and Carl Perkins with plenty of the signature moves and signature sounds that you'd expect.
Record producer Sam Phillips (Christopher Ryan Grant) narrates in his retro patterned blazer and slicked back hair with cigarette ashes flipping toward the floor.Despite an RCA buyout offer on the table, this "Father of Rock 'n' Roll" runs his studio his way ... even if it means threatening to take his belt off to 'whip' the squirmy and constantly antagonistic Jerry Lee Lewis (Martin Kaye) who at one point requests a cash advance since gasoline is up to ... you know 25 cents a gallon.Kaye, who began singing lessons at three years old and piano lessons at seven, ran his hands up and down the piano keys all night long during songs like "Real Wild Child," "Great Balls of Fire," and "Whole Lotta Shakin' Going On" and seemed to have every quirky Jerry Lee nuance down from the hair shaking to the bench kicking.'Cuz make no mistake about this production: there "ain't no faking; these boys are really playing."
Singer-songwriter and guitarist Lee Ferris plays the flask-sipping "King of Rockabilly" Carl Perkins who is spending the evening trying to restart his career after his song "Blue Suede Shoes" has been re-recorded by Elvis, becoming a sensation without Perkins' name attached. Ferris' rendition of Perkins' "See You Later, Alligator" and "Who Do You Love?" were certain crowd pleasers, and the part of the "Man in Black" Johnny Cash (sung by Derek Keeling who looks just as much a young John Stamos as John Cash) was an impressive vocal display of 'how low can you go'; but the duet medley of Cash's "Sixteen Tons" mixed with Perkins' "My Babe" was uniquely special.
Named Elvis Presley Enterprises' Ultimate Elvis Tribute Artist of 2011, Cody Slaughter bears a remarkable resemblance to the "King of Rock and Roll" and played the part with innocent, reserved, believable mannerisms.Rest assured; this is not some cheesy, over-acted impersonation show. On the contrary, songs like "That's All Right" and "Long Tall Sally" are solidly performed, and Christopher Ryan Grant's depiction of Sam Phillips' intense struggle for record industry success is at times almost tear-jerking.
Elvis' singer girlfriend Dyanne (Kelly Lamont) injects a shot of estrogen into the otherwise all-male cast, which actually turns out not to be distracting at all.Well, unless you consider a sexy woman in a figure flattering dress sliding her hand over her hip while singing "Fever" distracting.In that case, well, maybe a little.
Million Dollar Quartet runs at Fair Park through Sunday, March 18, 2012 with lots of great seating options. Tickets start at around $20.00 for balcony seats which are great for this mostly musical show.However, since the music is onstage in this production, the orchestra pit is covered and therefore houses three additional rows of very UP CLOSE seating (as in, on the first row you can tap your foot against the stage); and you can get those seats for about $70.00 - $80.00 each.Benefits of that include getting a good look at some gorgeous guitars along with the piano, bass (Chuck Zayas), and drums (Billy Shaffer), as well as possibly being the recipient of Elvis' scarf!
Editorial Policy: The Flash List is dedicated to providing trustworthy editorial content by maintaining strict ethical standards, journalistic integrity, and credible professionalism regardless of potential compensation as working media. The Flash List discloses receiving tangible and/or intangible benefits for the purposes of providing media coverage for certain events, venues, products, and/or services.
MORE ON THE FLASH LIST
50 Things to Do
Bored? Well, there's definitely no need to be. Take your pick of these fun things to do.
Entertainment News
The latest breaking news and top stories in arts, dining, culture, movies, music, and sports.
Events Calendar
Not everything in town that you could do, but a list of events that you definitely should consider.
Date Night Ideas
From retro candy stores to luxury car rentals, let us help you impress on your next date night out.
Movies in Theaters
See previews of movies coming soon and trailers for films now playing at local theaters.
Go Gallivanting
Our sister website, The Art of Gallivanting, offers extraordinary adventures for ordinary people.