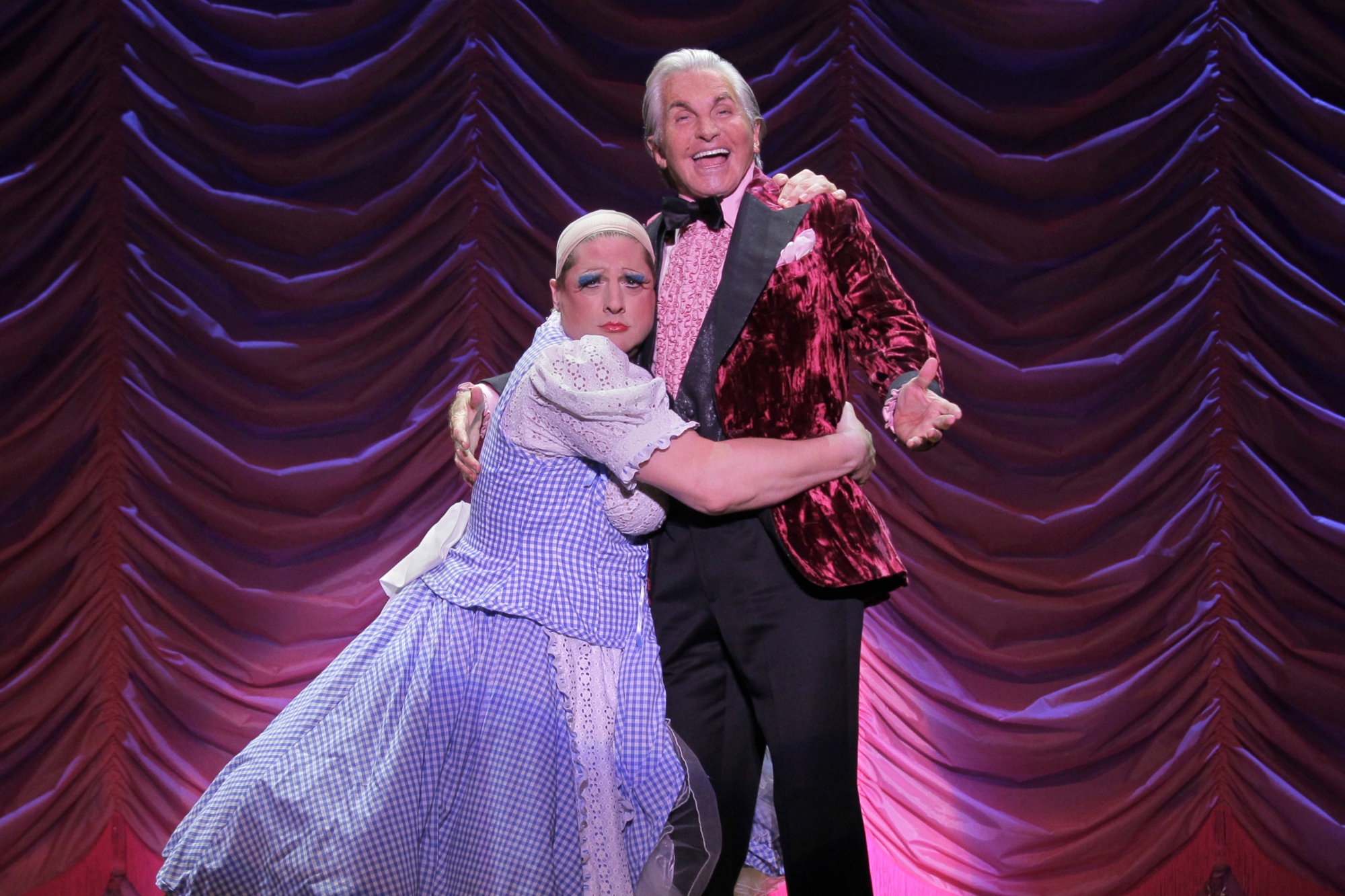 Posted April 11, 2012 | © Photo by PaulKolnik
Welcome ladies and gentlemen! Grab a cock-tail, take an intimate seat at one of the cabaret tables near the stage, and get ready for a whip-cracking good time at La Cage Aux Folles!
In a dimly lit Music Hall, the hot pink ruched curtain rises to reveal half a dozen feminine silhouettes in various seductive poses singing "We Are What We Are."They're not, however, what you think they are.When the spotlights expose this bevy of brazen beauties, we witness the quite muscular Les Cagelles chorus line dancers perform tricks and sing notes both high and low ... very, very low.
Our evening of wonderfully bawdy drag entertainment is hosted by Georges (played by the dapper and ever-debonair George Hamilton), the manager of this glitzy Saint Tropez nightclub.Georges' flamboyant romantic partner Albin (Christopher Sieber) moonlights as the club's star performer ZaZa (a.k.a Little Bo Peep, Marilyn Monroe, etc.) generally bedecked in fur, feathers, and fabulosity.
The men have raised Gorges' 24-year-old son Jean-Michel (Michael Lowney) who has just announced his engagement to the sweet, young Anne (Allison Blair McDowell), but dad George and 'mom' Albin are at a loss to understand Jean-Michel's heterosexuality and thus question, "You are a boy. She is a girl. What will you talk about?"Regardless, arrangements are made for a dinner with Anne's ultra-conservative parents Madame Dindon (Cathy Newman) and Monsieur Dindon (Michael McCormick), the Archie Bunker-like Deputy General of the "Tradition, Family and Morality Party." Deeply concerned about family cohesion, Jean-Michel "ditches some of the more obvious ironies" in his parents' ostentatiously decorated apartment, and Albin is required to take slouching lessons in order to pass himself off as the masculine Uncle Al.Be that as it may, the metaphorical bottle of champagne is only contained until the cork gets loose. Throw in catalyst Jacob (Jeigh Madjus), the over the top, cross-dressing 'butler/maid', and of course, it's not long before mayhem ensues.
Famously balancing drama and comedy with the classic style of Lucille Ball (and her drag equivalents), Christopher Siever (who played Georges in La Cage on Broadway opposite Harvey Fierstein) is bold, beautiful, and outstanding in this role (from the tip top of his teased-up wig straight past his big ol' fake boobs and right down to his classic two inch pumps).
The production is packed with shoulder bouncing tunes, flashy costumes, fun (albeit risque) choreography, some acrobatic tumbling (a bit of a Bring It On reprise), beach balls bouncing through the audience, and scenery that changed seamlessly from club stage (with disco lighted stairway) to upstairs apartment living area to Chez Jacqueline Restaurant, and more.
If you're concerned about whether this show will be an affront to your moral sensibilities, you can rest assured that it most definitely will.But, in all fairness, it's an equal opportunity offender.Drag queen Lili Whiteass (Todd Lattimore), who claims to be the illegitimate granddaughter of Betty White, welcomes the crowd during a preshow warm up by hurling insults at old people, area Republicans, Jewish lesbians, and more.
But it's all in love, honey. The show's just tongue and cheek. A little tongue, and a whole lotta cheek.
Winner of three 2010 Tony Awards including the award for Best Musical Revival, La Cage Aux Folles runs Tuesday, April 10 through Sunday, April 22, 2012 at Dallas Summer Musicals at the Music Hall at Fair Park with a running time of 2 hours and 40 minutes (including one 20-minute intermission).Orchestra pit cabaret tables are available right in front of the stage, and tickets for balcony seating begin at $15.00.Parental guidance is suggested for this show.
Editorial Policy: The Flash List is dedicated to providing trustworthy editorial content by maintaining strict ethical standards, journalistic integrity, and credible professionalism regardless of potential compensation as working media. The Flash List discloses receiving tangible and/or intangible benefits for the purposes of providing media coverage for certain events, venues, products, and/or services.
MORE ON THE FLASH LIST
50 Things to Do
Bored? Well, there's definitely no need to be. Take your pick of these fun things to do.
Entertainment News
The latest breaking news and top stories in arts, dining, culture, movies, music, and sports.
Events Calendar
Not everything in town that you could do, but a list of events that you definitely should consider.
Date Night Ideas
From retro candy stores to luxury car rentals, let us help you impress on your next date night out.
Movies in Theaters
See previews of movies coming soon and trailers for films now playing at local theaters.
Go Gallivanting
Our sister website, The Art of Gallivanting, offers extraordinary adventures for ordinary people.