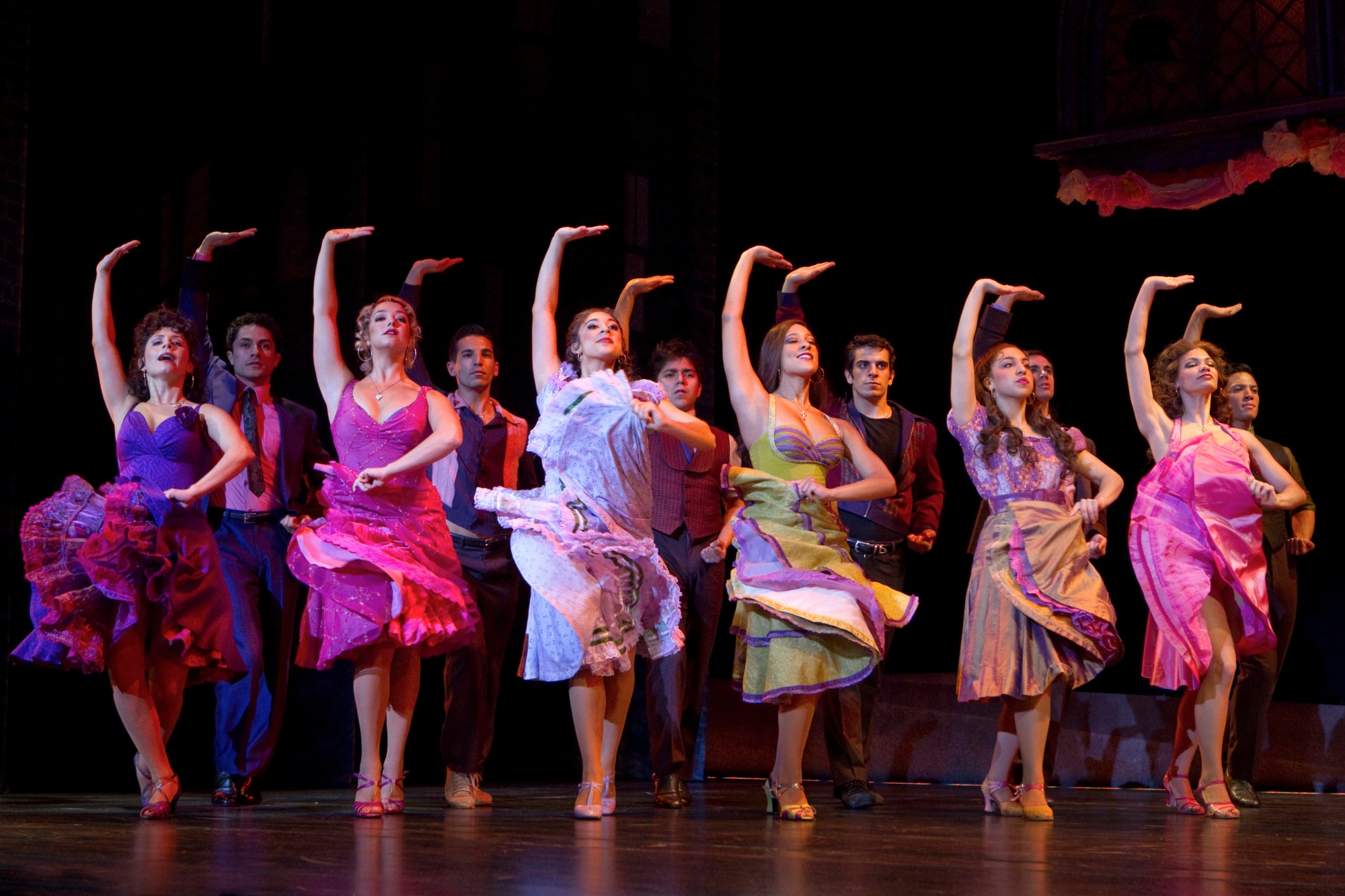 Posted October 6, 2011 | © Photo by Joan Marcus
by Brandt Tilley
You'll free pretty, oh so pretty ... and witty ... and pity anyone who isn't you tonight!

West Side Story (with lyrics by Steven Sondheim) is a wonderfully written musical that has topped the ranks of Broadway since its debut in 1957. This cross-cultural story has all the finesse of a Shakespearian drama (it is, after all, an adaptation of Romeo and Juliet) with the colorful and outright humor one is sure to enjoy. With its vibrant colors, rich sounds, and quick pace; West Side Story captures attention and sparks imagination.
As the curtain rises, our native New Yorkers (the gang respectfully entitled the Jets) *snap* right into the opening scene. Their austerity is quickly met by their flashy rivals from Puerto Rico who are aptly named the Sharks. The ethnic tensions between the Jets and the Sharks last throughout the musical, but are often injected with a bit of humor by their successful evasions from the ever pressing Lt. Shrank. As 'delightful' as a good gang fight might seem however, the story moves from the streets of New York to a flashy high school dance. It's here the love interest is formed between New Yorker Tony (Ross Lekites) and Puerto Rican Maria (Evy Ortiz). As two of the top singers on stage, Lekites and Ortiz electrify the romance between Tony and Maria with their intermittent duets. Surrounded by a host of fun and flashy dances, their romance quickly pushes the racial lines drawn by the Jets and the Sharks. Tony and Maria's hidden romance spills onto the scene just as the tension between the two rival gangs reaches its pinnacle. The show's intermission leaves you with an almost palatable amount of curiosity. West Side Story concludes with everything from romance to murder and finishes in a way that can only be expressed as revelatory.
Overall, Dallas Summer Musicals' performance of West Side Story is a solid depiction of this American classic. The choreography is fantastic, and is performed by a cast whose commendations are extensive. The sets are as grand and numerous as the colors and lightings that fill them. Their precise movement and quick transitions often go unnoticed as a byproduct of their perfection. With their audacious dancing, flamboyant gestures, and quick pace, the cast makes every seat in the house a good one. DSM's performance of West Side Story is a show to see, and is one that will leave you with every emotion but regret.
Editorial Policy: The Flash List is dedicated to providing trustworthy editorial content by maintaining strict ethical standards, journalistic integrity, and credible professionalism regardless of potential compensation as working media. The Flash List discloses receiving tangible and/or intangible benefits for the purposes of providing media coverage for certain events, venues, products, and/or services.
MORE ON THE FLASH LIST
50 Things to Do
Bored? Well, there's definitely no need to be. Take your pick of these fun things to do.
Entertainment News
The latest breaking news and top stories in arts, dining, culture, movies, music, and sports.
Events Calendar
Not everything in town that you could do, but a list of events that you definitely should consider.
Date Night Ideas
From retro candy stores to luxury car rentals, let us help you impress on your next date night out.
Movies in Theaters
See previews of movies coming soon and trailers for films now playing at local theaters.
Go Gallivanting
Our sister website, The Art of Gallivanting, offers extraordinary adventures for ordinary people.