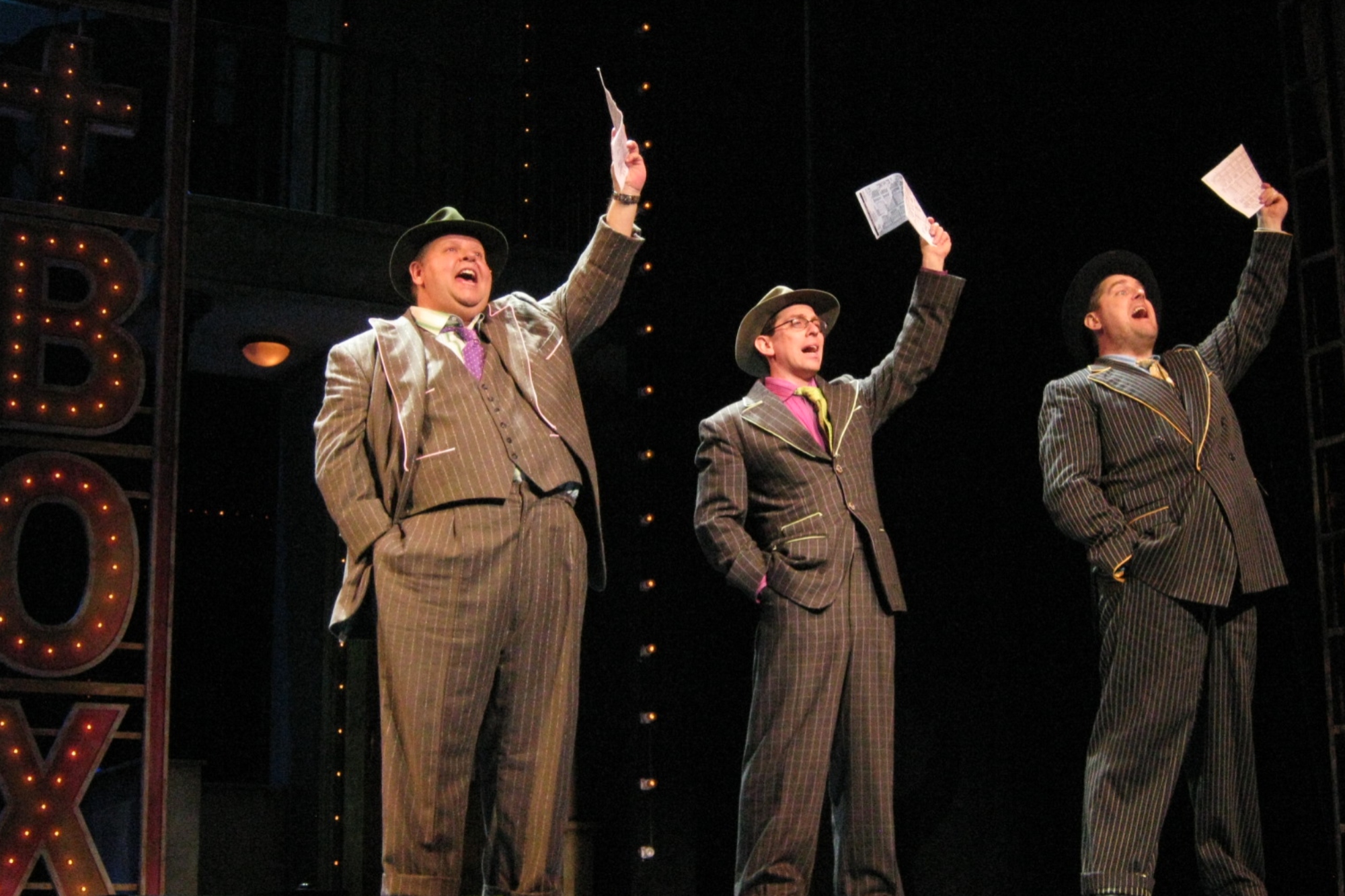 Posted July 20, 2011 | © Photo courtesy of Dallas Summer Musicals
We watched Newsies this week (starring a seventeen year old Christian Bale), and we saw Guys and Dolls at The Music Hall at Fair Park; so you'll have to excuse us as we've begun tawwking with a Noo Yawk accent now.
Set back in the middle of da 1900's amidst the hustle and bustle of a Runyonesque New York City, the celebrated Guys and Dolls musical is considered by some to be one of the best musicals ever created.
There's these two guys see, and they're real rascals, ya know? First, ya got the enterprising gambler Nathan Detroit and his gal Adelaide (a showgirl at the local Hot Box entahtainment establishment) who's all like, 'yous guys bettah not be runnin' no crap game!'After a fourteen year engagement to the noncommittal Detroit, Adelaide's got a cold, a psychosomatic reaction to the realization that she'll be gettin' married on the "12th of nevah."
Then ya got the big wig Sky Masterson, and he's all sophisticated and debonair, see.He falls for the consoivative Sarah Brown after a bragging bet with Nathan that he can get any woman he wants to go on a trip wid him. Now this Sarah dahl's the reserved type, but she goes with Sky anyway 'cuz she's in a pickle down at the Save-a-Soul Mission where she's tryin' to get da sinnahs saved and all.So they head down to the El CafCubana in Havana where she drinks a few dulce de leche 'milkshakes' flavored with Bacardi and den gets all romantic-like with Sky.Soon, they's all back togeddah in New York on accountah they's got some dice to roll with da fellas.
Megan Sikora is absolutely spectacular as the giggly Adelaide. Lookin' like a young Lucille Ball with all that red curly hair and sounding like Bernadette Peters with that high pitched, nasally, squeaking voice, Sikora no doubt nailed the part.Erin Davie was heavenly as the modest, good girl Sarah Brown; and even after a demanding dance number, her duet with Sky Masterson (Ben Crawford) was ... shall we say it ... divine.
Nathan Detroit (Steve Rosen) and his cohort Benny Southstreet (Garth Kravitz) gave very respectable performances, but it was Nicely Nicely Johnson (played by Glenn Rainey) that got the audience's shoulders bouncing with his "Horse Right Here" and "Sit Down, You're Rockin' the Boat."
So anyhows, things all woiks out in the end; so wheddah you're a dame or a mug, a classy lady or a high-rollin' gent looking for a solid, tradition musical, go see Guys and Dolls at Fair Park. You won't soon fuggedaboutit.
More Information
"Luck Be a Lady" video on DSM
Dallas Summer Musicals Information on The Flash List
Editorial Policy: The Flash List is dedicated to providing trustworthy editorial content by maintaining strict ethical standards, journalistic integrity, and credible professionalism regardless of potential compensation as working media. The Flash List discloses receiving tangible and/or intangible benefits for the purposes of providing media coverage for certain events, venues, products, and/or services.
MORE ON THE FLASH LIST
50 Things to Do
Bored? Well, there's definitely no need to be. Take your pick of these fun things to do.
Entertainment News
The latest breaking news and top stories in arts, dining, culture, movies, music, and sports.
Events Calendar
Not everything in town that you could do, but a list of events that you definitely should consider.
Date Night Ideas
From retro candy stores to luxury car rentals, let us help you impress on your next date night out.
Movies in Theaters
See previews of movies coming soon and trailers for films now playing at local theaters.
Go Gallivanting
Our sister website, The Art of Gallivanting, offers extraordinary adventures for ordinary people.