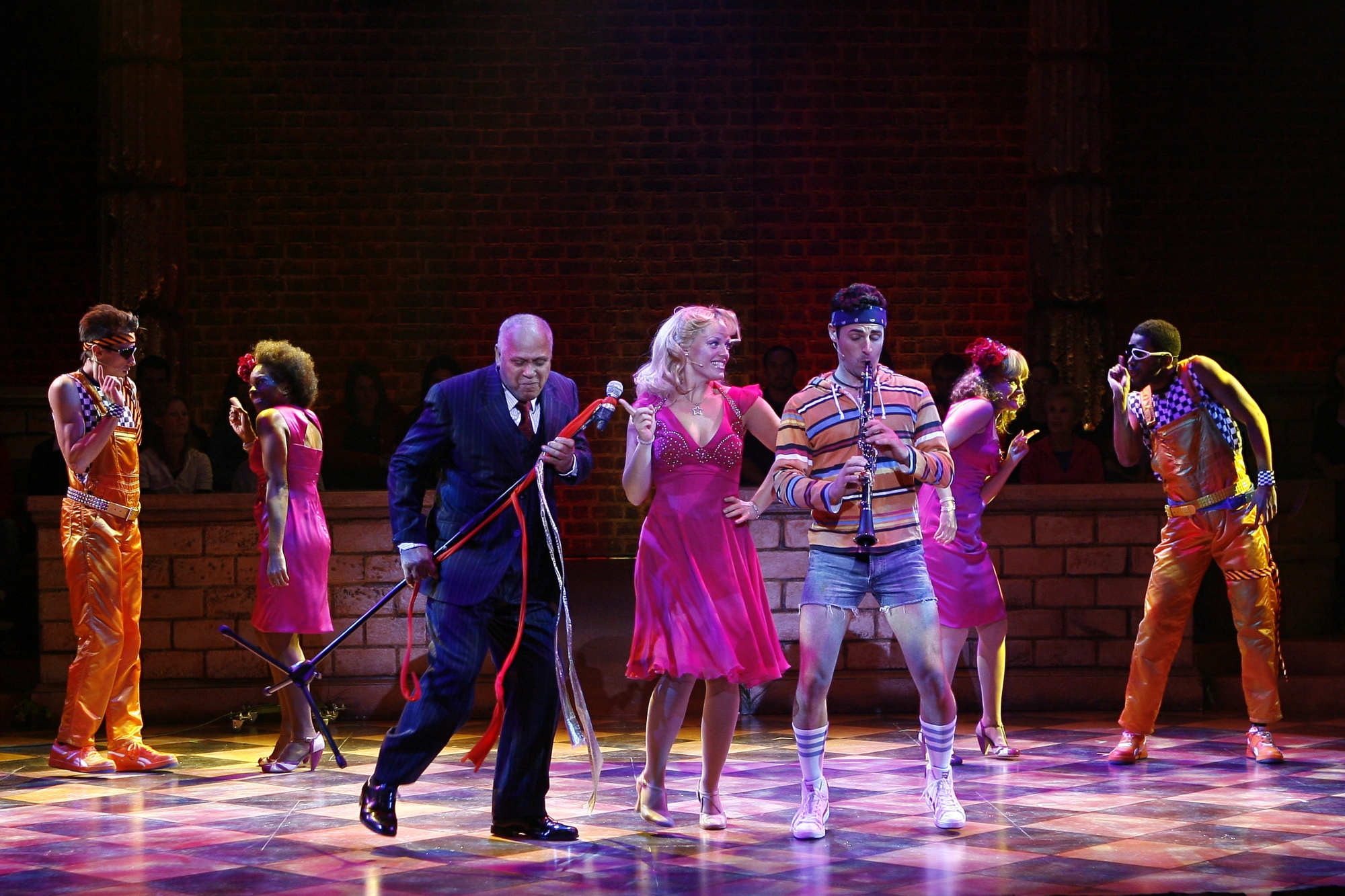 Posted April 7, 2010 | © Photo by Carol Rosegg
Xanadu is roller boogie brilliance!
Set in 1980 on Venice Beach, and based on the classic movie of the same name which starred Olivia-Newton John and Gene Kelly, this musical follows the journey of Kira, a beautiful Greek muse who comes to earth to help Sonny, a struggling artist, renew his hope and develop his greatest achievement - a roller disco.
Sonny (Max Von Essen), donned in striped tube socks and cut off jean shorts, first introduces us to Kira and her six sisters (two of which are actually guys) as they fantastically seem to come alive right before our eyes from a 'chalk' mural on a brick wall.
In order to accomplish her job of inspiring art, Kira (Anika Larsen) disguises herself with roller skates, legwarmers, and a hilariously over exaggerated Australian accent; but it isn't long before two of her sisters, Melpomene (Natasha Yvette Williams) and Calliope (Annie Golden) place a curse on Kira causing her to fall in love with the mortal, and comically air-headed, Sonny.
Kira resists since this action is forbidden by the gods, but she's no match for the shirtless, belly rubbing, arrow wielding Cupid (and wow, we're not sure how long it's going to take to shake that image).So love is born amidst a tender yet powerful and funny rendition of "Suddenly", along with an onstage kiss that brought cat calls from the audience and an all around feeling of boom-chicka-wow-wow.
Soon however, Kira senses the error of her way and attempts to flee.Despite desperately holding on to her leg to prevent her, Sonny is left with only Kira's roller skate as she disappears in Cinderella-like retreat. On her way to Mt. Olympus to beg forgiveness from Zeus, Kira seats herself on a winged Pegasus which dramatically lifts her high above the other actors on stage while she sings "Suspended in Time".
Once at Mt. Olympus, we see a band of characters pleading to Zeus (Larry Marshall) on Kira's behalf in a scene which includes Medusa, Cyclops, and Centaur singing "Have You Ever Been Mellow?"It was hysterical.All turns out for the best; and in the end, we are taken back to Club Xanadu for a terrific closing number featuring a stage flooded with colored light, a cast bedecked in Deney Terrio era satin and sparkle glory, and over three dozen disco balls sprinkling light across the entire auditorium.
Overall the show was really funny, doling out quips and one-liners like candy and leaving us cracking up while gasping and thinking, "Did they really just say that?" And the onstage audience, which was used as unlikely 'props' in many scenes, lent an unexpected element of humor and unpredictability.
The music is the star in this production though.There was a nostalgic touch of soft '40's swing and a little '80's head-banging strobe lit hair band rock, but the score showcases the talents of John Farrar, who wrote most of Olivia Newton-John's number one pop singles, and Jeff Lynne, who formed Electric Light Orchestra (E.L.O.).Songs in this production include "I'm Alive", "Magic", "Evil Woman", "Strange Magic", "All Over the World", and of course "Xanadu", and were performed in part by an onstage band consisting of keyboards, guitars, and a synthesizer - sounds that took us all the way back to the corner hang out where we played Asteroids and Galaga in our tennis shoe styled roller skates with a mouthful of Pop Rocks.Ah, our own personal Xandadu Xanadooo ooo oooh ...
Editorial Policy: The Flash List is dedicated to providing trustworthy editorial content by maintaining strict ethical standards, journalistic integrity, and credible professionalism regardless of potential compensation as working media. The Flash List discloses receiving tangible and/or intangible benefits for the purposes of providing media coverage for certain events, venues, products, and/or services.
MORE ON THE FLASH LIST
50 Things to Do
Bored? Well, there's definitely no need to be. Take your pick of these fun things to do.
Entertainment News
The latest breaking news and top stories in arts, dining, culture, movies, music, and sports.
Events Calendar
Not everything in town that you could do, but a list of events that you definitely should consider.
Date Night Ideas
From retro candy stores to luxury car rentals, let us help you impress on your next date night out.
Movies in Theaters
See previews of movies coming soon and trailers for films now playing at local theaters.
Go Gallivanting
Our sister website, The Art of Gallivanting, offers extraordinary adventures for ordinary people.