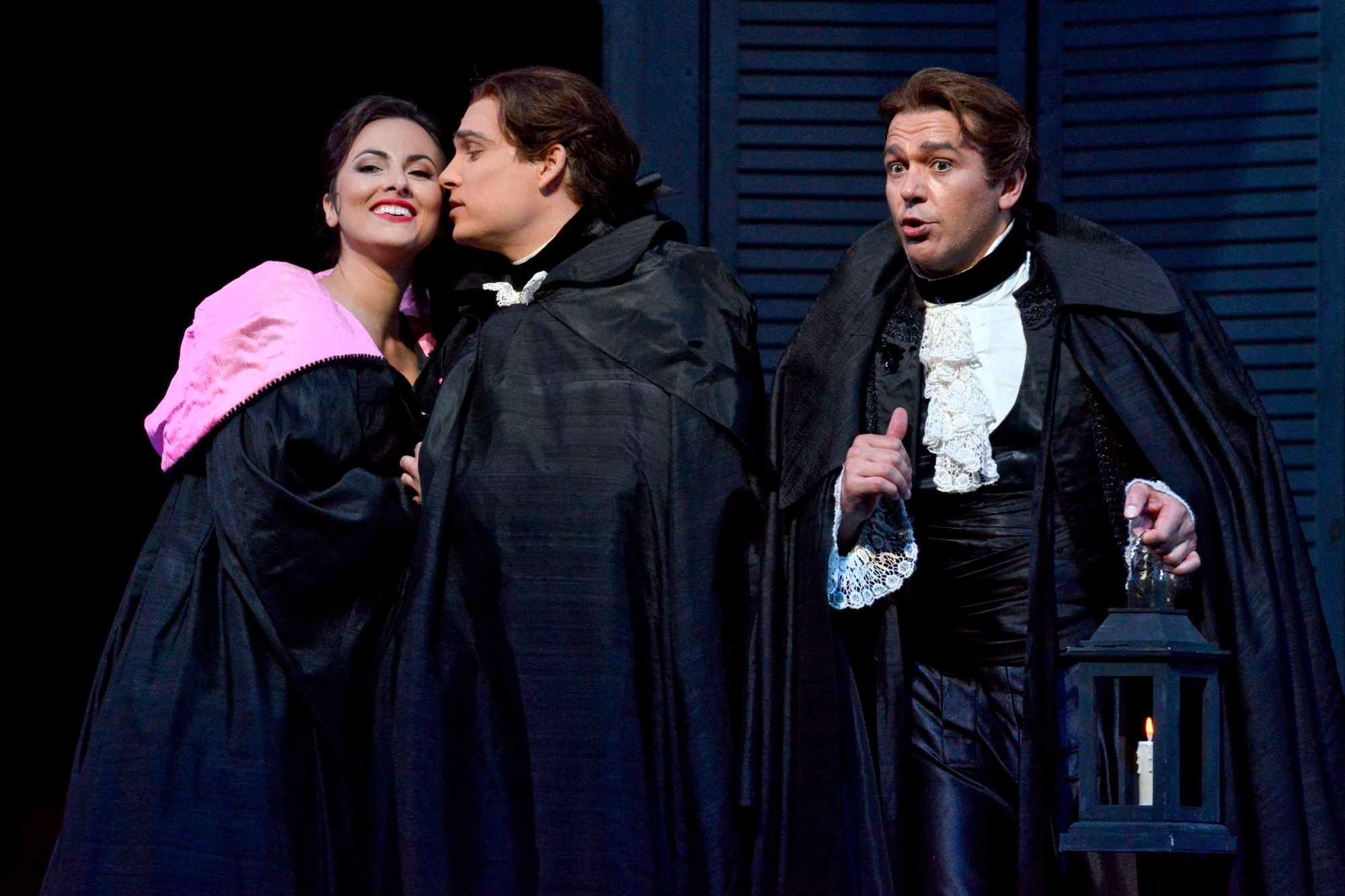 Posted March 31, 2014 | © Photo by Karen Almond
Good comedy is serious business. And the well-selected cast of The Barber of Seville is definitely getting down to some seriously funny business over at the Winspear.
Whether we've laughed along as Bugs Bunny chops carrots into a tossed salad over Elmer Fudd's bald head in Rabbit of Seville or we've snickered during Long-Haired Hare as Bugs interrupts the well-known aria "Largo al factotum" with its recognizable "Figaro, Figaro, Figaro" lyrics, most of us have, in one way or another, been indoctrinated from our youth with the music of The Barber of Seville.
The Dallas Opera's charming season finale production mixes loony behavior and whimsical tunes for an upbeat, on-your-emotional-tiptoes, classic opera replete with quirky love-triangle antics, silly disguises, false identities, and sneaky (albeit sometimes foiled) schemes. Gioachino Rossini's witty early-nineteenth century masterpiece is one of opera's best-loved comedies, and the current all-star cast had some seasoned operagoers claiming that this production was the funniest they'd seen.
The zany barber Figaro (portrayed by a charismatic Nathan Gunn) is a money-motivated Jack of all trades who begins his day with a jovial familiar song (which includes vocals that rise sharply as his pants tighten). He hatches a wacky plan to assist the love-struck Count Almaviva (suave lyric tenor Alek Shrader) in vying for the hand of the beautiful Rosina (the beautiful and elegant acclaimed mezzo-soprano Isabel Leonard) who lives with her bumbling rotund guardian Dr. Bartolo (sought-after comic genius and Italian buffo bass Donato DiStefano who has mastered this role for audiences around the world).
When Rosina resists Dr. Bartolo's unwelcome Pep Le Pew-like romantic intentions (a strategic ruse just to get her dowry), some humorously pouty foot-stomping and shoulder-slouching ensues, a hairpiece flies, stinky stockings get tossed, a get-away ladder floats into the sky, and more in this humorous romp in which the sweet, well-behaved, young senorita determines to get her way or there'll be "hell to pay." Adding to the hijinks and hilarity are Turkish bass Burak Bilgili as the music teacher Don Basilio, Nathan De'Shon Myers as Almaviva's eager servant Fiorello, and soprano Jennifer Aylmer as the big-bootied governess Berta.
Four performances remain of this perfect-for-newcomers opera with tickets starting as low as $19; and a FREE live simulcast will be broadcast at AT&T Stadium (with free parking and paid concessions) on Friday, April 11, 2014 preceded by the world's largest screening of the Warner Brothers classic cartoon Rabbit of Seville. So get tickets or make reservations now, and be absolutely sure to watch the explanatory video below or take a brief perusal of this hare-brained plot ... so you'll know what's up, Doc.
Editorial Policy: The Flash List is dedicated to providing trustworthy editorial content by maintaining strict ethical standards, journalistic integrity, and credible professionalism regardless of potential compensation as working media. The Flash List discloses receiving tangible and/or intangible benefits for the purposes of providing media coverage for certain events, venues, products, and/or services.
MORE ON THE FLASH LIST
50 Things to Do
Bored? Well, there's definitely no need to be. Take your pick of these fun things to do.
Entertainment News
The latest breaking news and top stories in arts, dining, culture, movies, music, and sports.
Events Calendar
Not everything in town that you could do, but a list of events that you definitely should consider.
Date Night Ideas
From retro candy stores to luxury car rentals, let us help you impress on your next date night out.
Movies in Theaters
See previews of movies coming soon and trailers for films now playing at local theaters.
Go Gallivanting
Our sister website, The Art of Gallivanting, offers extraordinary adventures for ordinary people.