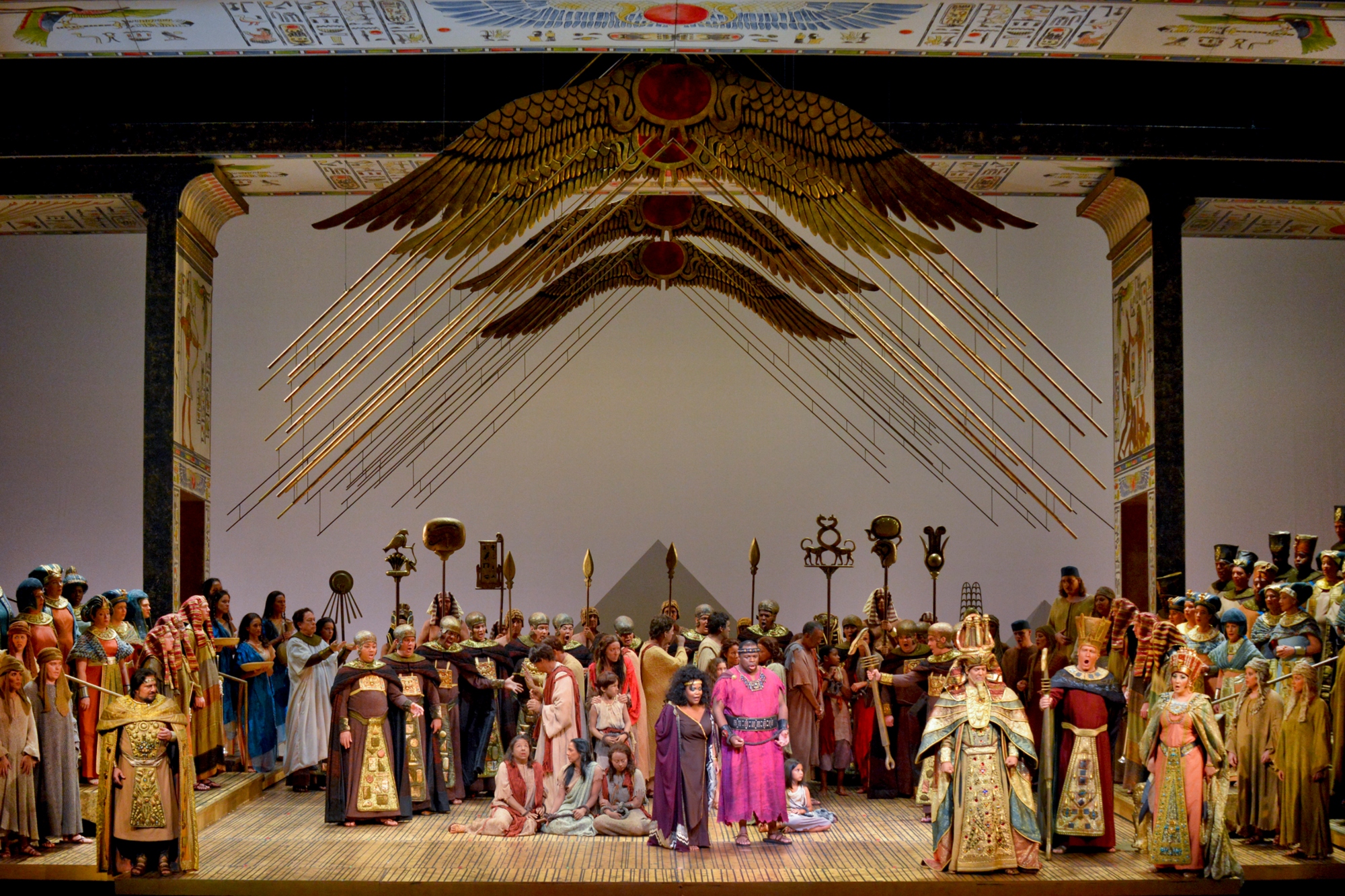 Posted October 27, 2012 | © Photo by Karen Almond
The Dallas Opera celebrated "Arts and Sports Together" in a glamorous season-opening evening of celebrity guests, a sold out performance of Aida, and an elegant soiree of pre-and-post-show festivities.This year's special honoree and "First Night" Honorary Chair was Basketball Hall of Fame legend Nancy Lieberman. Her arrival on the red carpet was followed by great women from the world of sports such as 2012 Olympic Silver Medalist Brigetta Barrett, five-time Olympian Martina Moravcova, Kim Dawson Agency model Diane Krebs Johnston (the wife of former Dallas Cowboy Daryl "Moose" Johnston), and model and fitness advocate Deanna Stone Waddell who all wore stunning gowns inspired by leading characters of this opera season which were created, respectively, by noted fashion designers Abi Ferrin, Khanh Nguyen, Geoffrey Henning, and Michael Faircloth.As a special feature this year, Allie-Coosh owner Paulette Martsolf designed dresses for Aida's entourage in honor of "this pinnacle night and the outstanding efforts of the Dallas Opera."
Patrons were ushered indoors for a chic reception in the Winspear lobby and Hamon Hall where champagne corks popped as well-dressed patrons excitedly anticipated the night's premiere of Aida, one of the most popular works in the entire opera canon.Simultaneously, families comfortably gathered on the lawn outside with chairs, blankets, and refreshments for a free on-screen live simulcast of the event.
At the curtain's rise, audience members were transported back to Ancient Egyptian via a stage design (Michael Yeargan) which was rife with cultural references such as tomb and temple art, pyramid and deity imagery, lotus column-inspired architecture, pharaoh-depicting structures, and more all set atop a series of gliding, stair-stepped, flooring platforms. Costumes and accessories (Peter J. Hall) featured elaborate period specific apparel in a dusty beige and brown color palette with pops of soft peach and rich turquoise as well as various distinguishing forms of headdress.An exciting extra element was also added by way of entertaining dance sequences by The Chicago Festival Ballet choreographed by Kenneth von Heidecke.
In this very-easy-to-follow storyline, we meet the Egyptian warrior Radames as he reveals his secret love for Aida, an Ethiopian slave of the proud Princess Amneris.The aria "Heavenly Aida," depicting Radames' desire to fight and free Aida, was sung by charismatic Italian Tenor Antonello Palombi and brought immediate shouts of "Bravo!" at the earliest possible opportunity.The performance power of Princess Amneris, played by Bulgarian Mezzo-Soprano Nadia Krasteva, gradually unfolded throughout the evening as her character evolved from vengeful and self-centered to remorseful, conflicted, and eventually altruistic with a heartfelt desire for peace.It was the trio "Come, O delight, come closer" though by Palombi, Krasteva, and the phenomenal Houston-born Texas-raised Soprano Latonia Moore as Aida that piqued awareness and served as a preview of what was to come as it was barely complete before invoking loud woos from the crowd.
In what has turned out to be quite a coup for The Dallas Opera, Artistic Director Jonathan Pell, who has been a staunch supporter of Latonia Moore's talent for quite some time, cast her for this lead role over three years ago. She was the winner of the Dallas Opera Guild Vocal Competition and the 2005 Maria Callas Debut Artist of the Year Award for her TDO debut in Carmen. Then unexpectedly last March, Moore made a triumphant debut at The Metropolitan Opera when she replaced an ailing colleague as Aida with only a day and a half notice and no stage rehearsal. Moore's performance, which was broadcast on live radio worldwide, was met with a tremendous amount of enthusiasm at the time, and it seems that the fervor has in no way diminished as indicated by the exuberant appreciation and standing ovation she received on this evening.Her solo "Return a conqueror" in Act I had the audience mesmerized, absolutely captivated by her uniquely beautiful voice.Like a praiseworthy evangelist, Latonia Moore will surely convert a new generation of opera lovers to the classic art form.
Let us put it this way: Do you remember the scene in the movie The Shawshank Redemption in which the unjustly-accused inmate Andy Dufresne locks himself in the warden's office, puts his feet up on the desk, and leans back while broadcasting throughout the entire prison yard a duet from Mozart's The Marriage of Figaro?That's exactly what listening to Latonia Moore is like.And it's also exactly how we recommend you enjoy this particular show.The production does not consist of high-action or a complex fast-paced plotline, so if you are not an opera aficionado or haven't seen Aida, you can easily enjoy the program by merely walking in, casually reading the supertitles projected over the stage, and just listening along.
Additional performers offering support in this cast include the strong and commanding American Baritone Lester Lynch as Aida's father Amonasro, Bulgarian Bass Orlin Anastassov (the offspring of two opera singers) as The High Priest Ramfis, Bass Ben Wager as The King of Egypt, Tenor Jonathan Yarrington as the Messenger, Soprano Naguanda Nobles as The High Priestess, and a host of extras with a chorus led by Dallas Opera Chorus Master Alexander Rom.
Catch these rising stars at the Winspear Opera House as Aida runs through November 11, 2012.Tickets are also available now for Puccini's last masterpiece Turandot (April 5, 7, 10, 13, 19, 21, 2013) in which a barbarian prince risks everything to win the hand and ignite the love of the cold and calculating Princess Turandot and also Dominick Argento's The Aspern Papers (April 12, 14, 17, 20, 28, 2013), an opera in two acts sung in English and first performed in Dallas on November 19, 1988 about the games people play to achieve their twisted desires! Additional information below.
Editorial Policy: The Flash List is dedicated to providing trustworthy editorial content by maintaining strict ethical standards, journalistic integrity, and credible professionalism regardless of potential compensation as working media. The Flash List discloses receiving tangible and/or intangible benefits for the purposes of providing media coverage for certain events, venues, products, and/or services.
Production photos by Karen Almond, courtesy of The dallas opera
MORE ON THE FLASH LIST
50 Things to Do
Bored? Well, there's definitely no need to be. Take your pick of these fun things to do.
Entertainment News
The latest breaking news and top stories in arts, dining, culture, movies, music, and sports.
Events Calendar
Not everything in town that you could do, but a list of events that you definitely should consider.
Date Night Ideas
From retro candy stores to luxury car rentals, let us help you impress on your next date night out.
Movies in Theaters
See previews of movies coming soon and trailers for films now playing at local theaters.
Go Gallivanting
Our sister website, The Art of Gallivanting, offers extraordinary adventures for ordinary people.