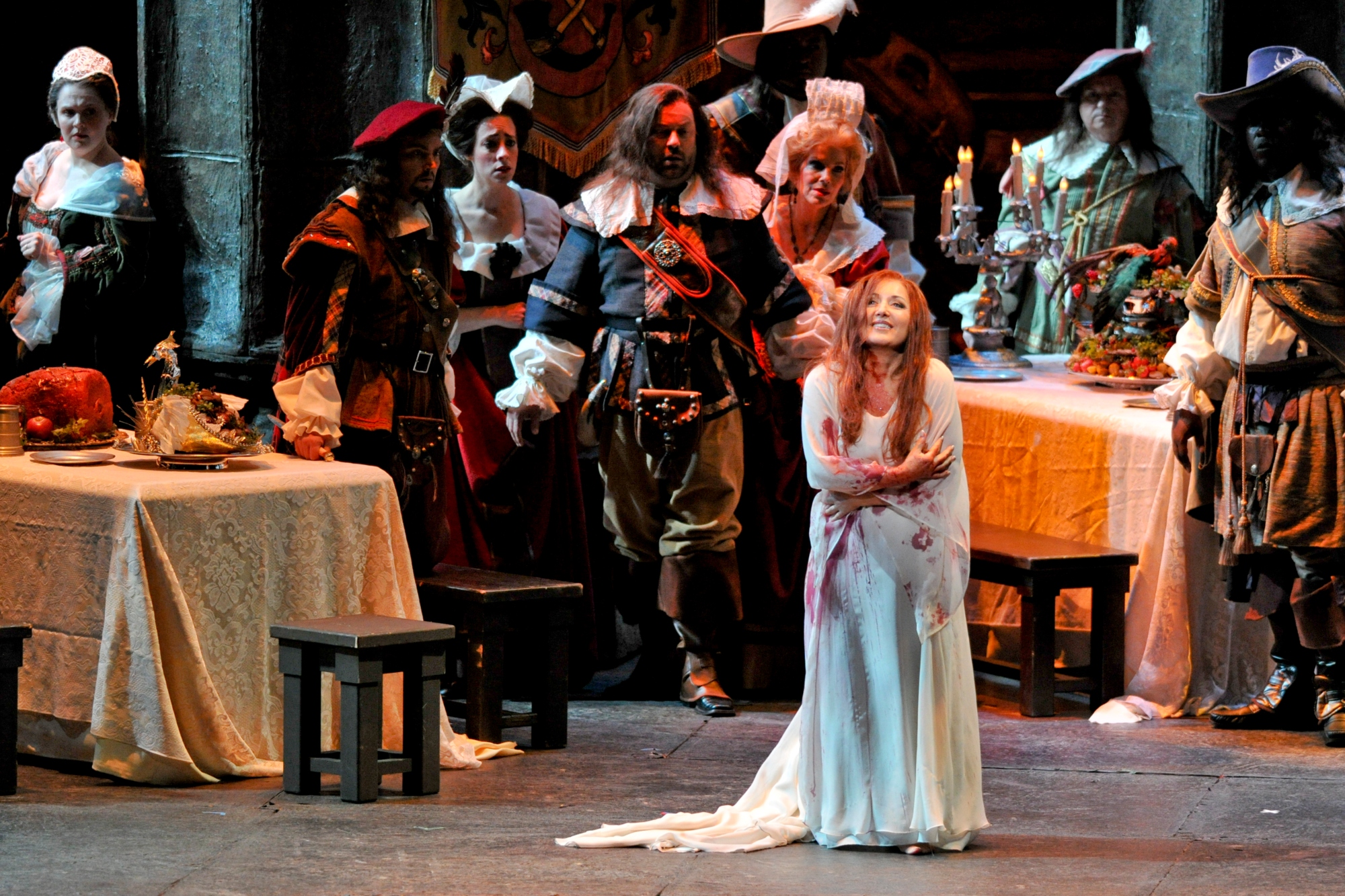 Posted October 22, 2011 | © Photo by Karen Almond
Despite its feminine title, Lucia di Lammermoor can be considered opera for guys who don't like opera (or at least those who might not be sure about it).
One of the most popular operas of all time and generally considered to be Donizetti's finest work, Lucia di Lammermoor is a dramma tragico (tragic opera) set in Scotland around 1700. From the heights of love to the depths of madness, this masterpiece of bel canto (beautiful, elegant singing) recounts a stirring tale of lies and loss - Romeo and Juliet style.
The story is told that our lovestruck couple had met when Lucia (Elena Mosuc) ventures to her mother's grave and is there approached by a raging bull. Gunfire erupts, Edgardo (Bryan Hymel) has saved her; and thus, voila, love at first shot.
Luca Grassi makes his American operatic debut as Lucia's brother, the ruthless Lord Enrico Ashton, a selfish manipulator that you love to hate (and who was playfully 'booed' at curtain call for his wonderful villain-esque depiction).After killing Edgardo's father and seizing the associated inheritance, Enrico is naturally vehemently opposed to the union of Edgardo and Lucia who exchange vows of love in secrecy.When Enrico finds out however, he deceives Lucia into thinking that Edgardo has left her for another lover; and in a political move to keep the dwindling family fortune intact, forces her to instead marry Arturo (TDO's Aaron Blake), to the point of actually throwing the wedding dress at her.
As the ceremony is prepared (and who can't appreciate a good 18th century wedding feast?), the chaplain Raimondo (Jordan Bisch) in his beautifully rounded, clear, powerful voice also urges Lucia, who eventually signs the contract against her will. The eerie, muted tones of the set design (Henry Bardon) gave scenes not only a hard look of stone (pillars, steps, castle ruins) but the necessary feeling of cold-heartedness as well, which was sprinkled here and there with foreshadowing 'splashes of red' in costume design (Peter J. Hall) including tartan plaids.
Emotionally distraught and doomed to a life of misery (after Edgardo discovers that his one true love has married another and he leaves heartbroken), Lucia takes matters into her own hands.Suffice it to say that things do not go well. Simultaneously, on a stormy night during a tense, let-us-have-a-duel confrontation with Enrico, Edgardo's contagious anguish is effectively exuded through Hymel's passionate collection of unfolding actions, and his "Tombe degli avi miei" (a song in which he laments Lucia's assumed betrayal) was spectacular.
In what is deemed "the mad scene", Elena Mosuc exemplified the deranged Lucia with a mesmerizing performance of the technically demanding "Il dolce suono" ("The Sweet Sound").The exquisite voice of this coloratura soprano was featured during the flute duet when at times you could barely tell the difference between Mosuc's incredible voice and the flute itself. "Woman of the Year 2009" and an "Officer of the Arts" (the highest honor awarded to a musician in her native Romania), Mosuc chose the theme of 'madness in Italian opera' for her doctor's degree in music science from which we assume she pulled inspiration for her impressive performance that is alone worth the ticket price.
See this 55th season opener of The Dallas Opera through November 6, 2011 at the Winspear Opera House. Due to the oversized props, easy-to-follow plot line, and scenes that translate well to the upper levels of the auditorium, you can feel comfortable taking your pick of seating in any of the pricing/balcony levels. See The Flash List's specific seating recommendations here.
Lucia di Lammermoor runs three hours plus two intermissions, but do consider arriving an hour early for the Joy and Ronald Mankoff Pre-Opera Talk in Hamon Hall as well. Tickets are also on sale now for the upcoming Tristan & Isolde, about the chance meeting and blossoming love of a Cornish knight and an Irish princess (the wife of his mentor and king). For more information, see http://www.dallasopera.org
Editorial Policy: The Flash List is dedicated to providing trustworthy editorial content by maintaining strict ethical standards, journalistic integrity, and credible professionalism regardless of potential compensation as working media. The Flash List discloses receiving tangible and/or intangible benefits for the purposes of providing media coverage for certain events, venues, products, and/or services.
MORE ON THE FLASH LIST
50 Things to Do
Bored? Well, there's definitely no need to be. Take your pick of these fun things to do.
Entertainment News
The latest breaking news and top stories in arts, dining, culture, movies, music, and sports.
Events Calendar
Not everything in town that you could do, but a list of events that you definitely should consider.
Date Night Ideas
From retro candy stores to luxury car rentals, let us help you impress on your next date night out.
Movies in Theaters
See previews of movies coming soon and trailers for films now playing at local theaters.
Go Gallivanting
Our sister website, The Art of Gallivanting, offers extraordinary adventures for ordinary people.