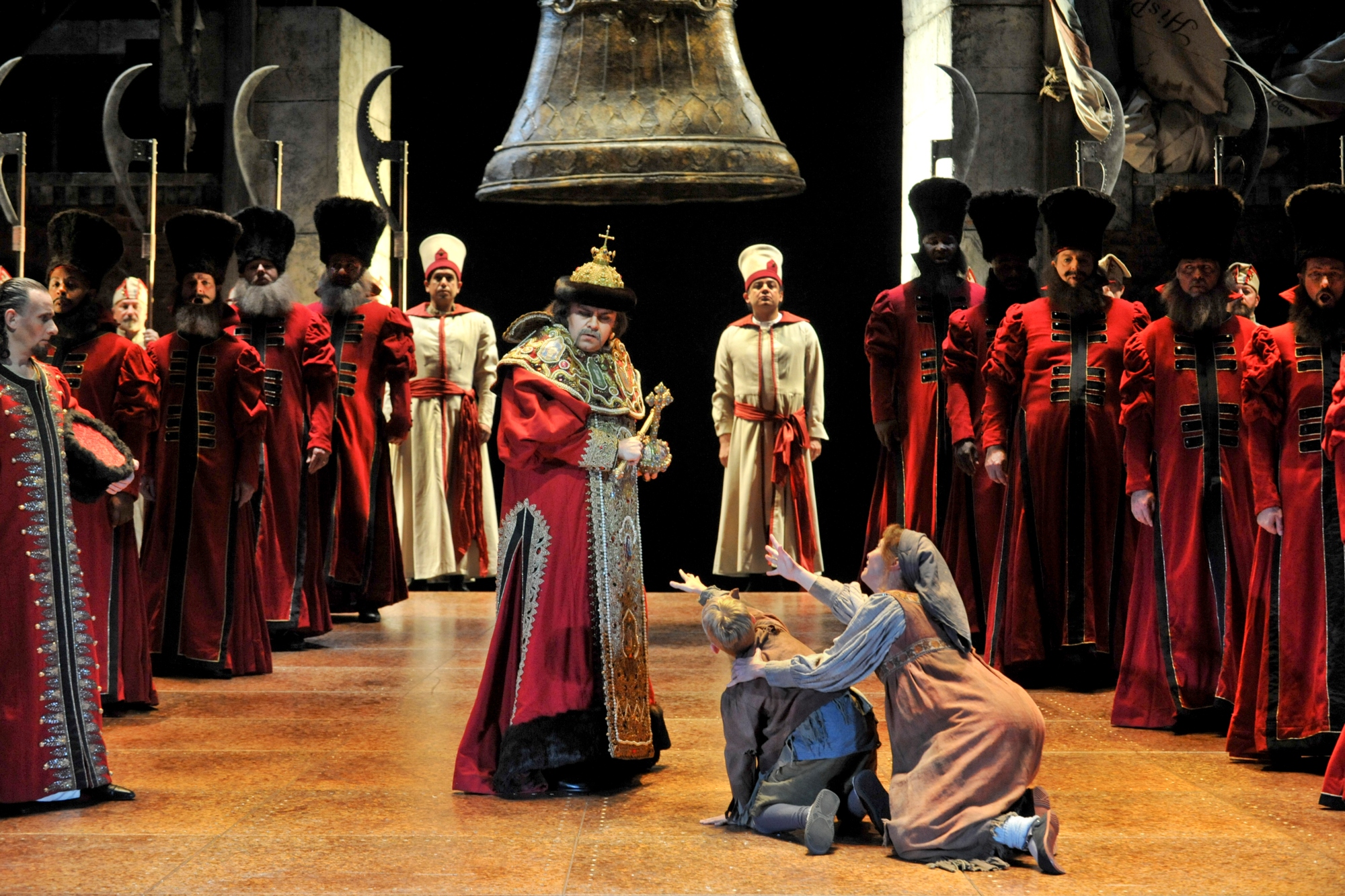 Posted April 1, 2011 | © Photo by Karen Almond
For the most part, people either like caviar or they don't. And Boris Godunov is opera caviar.
A grand finale to the 2010/2011 Dallas Opera season, a discriminating audience will appreciate this dramatic, historical account of Russian Tsar Boris Godunov who rises and falls amidst the country's political upheaval. In a style something akin to Les Miserables, oppressed peasants cry for relief while a power-hungry upper class struggles for the throne and corrupt church leaders manipulate spiritual matters.
With a spectacular stage design (Nicholas Dvigubsky) simulating an unfinished building site, the set's stone archways, scaffolding, stairways, and wide center ramp act as a monotone canvas which effectively highlights the stark contrast between the dingy, tattered garb of smudge-faced workers and the richly colored, luxurious fabrics of the wealthy elite bedecked with sparkling jewels.
Just the Facts Ma'am
We at The Flash List generally try to evaluate how much research might be necessary to thoroughly enjoy each particular opera performance; and for this one, you just might need a little background information in order to keep up with the story.
So here are a few basics in a nutshell:
Ivan the Terrible was the first tsar in Russia.He had three sons - Ivan, Fyodor, and Dmitriy.
The son Ivan was tsarevich (heir apparent), but was killed by the father Ivan in an argument; then Ivan the Terrible died later in 1584.
Fyodor became the next tsar; but mentally unfit to rule, he turned the affairs of state over to his brother-in-law, Boris Godunov, a boyar (member of the class ranking just below the ruling class) who then acted as regent.
Dmitriy mysteriously died in Uglich, some theorizing that he had accidentally stabbed himself in the throat during an epileptic seizure while others rumored that Boris Godunov had participated in a plot to kill Dmitriy in order to assure his own succession to the throne.
Fyodor died in 1598, leaving Boris faced with accepting the throne.
Fork in the Road
Some might not consider this little slice of Imperial history to be their cup of tea (or spoonful of Beluga as the case may be), so we also suggest TDO's very popular, currently running production of Rigoletto, or next season's Tragic Obsessions offerings which include Tristan and Isolde, Mozart's The Magic Flute, La Traviata (the opera in Pretty Woman), and more.
Otherwise, on with the show ...
The Opera Begins
Propelled by a desperate outcry of pleas from an overworked and weary working class (a cast of several dozen adults and children singing what is considered to be some of the finest choral music ever composed), Boris Godunov (portrayed by powerful Russian bass Mikhail Kazakov) is crowned the new tsar (see Bolshoi video here) and is optimistic, but vexed with "a secret fear" that consumes him.
Meanwhile, the monk Pimen (respectably performed by bass Vitaly Efanov) writes the final chapter in his history of Russia, as the young Grigory (Russian tenor Yevgeny Akimov), deprived of the glory of life experiences, hears the story of the dead Tsarevich Dimitri and decides to escape the monastery, expose Boris's wrongdoing, and pretend to become Dimitri in order to attain the throne for himself.Akimov's performance was so charismatic and magnetic, it seemed that no matter where we happened to be looking (supertitles, set, other actors, etc.) his magnificent voice commanded the return of our attention.
Grigory is aided to the Lithuanian border by a humorous innkeeper (a delightfully animated and full-voiced contralto Meredith Arwady) and makes his way to a Polish castle where he courts the beautiful, egotistical, and bored Marina (Russian mezzo soprano Elena Bocharova) who is "enticed by the purple mantle and crown of the Russian throne".Her sinful and frivolous ways are the puppet strings with which the Jesuit Rangoni (Russian baritone Sergei Leiferkus) causes her to dance to his tune of furthering the Catholic cause in one of the creeeeepiest scenes of the whole show.His sinister bald head, some ghoulish movements, a death-like blue spot light - and ooh, shivers with a smile!
As Godunov becomes increasingly tormented emotionally, the boyars vote to decide the fate of the Pretender Dimitri while Prince Shuisky (the smooth, buttery voiced David Cangelosi) describes Boris's vivid haunting visions.The story comes to a close as Boris Godunov dies and snow falls across the stage as the Holy Fool (tenor Keith Jameson) bewails the fate of Russia.
Know Before You Go
Although Boris Godunov has a three and a half hour run time, (which, in this case, we consider getting your money's worth), the time flies by quickly as the plot moves along smoothly like a movie and the fast moving action keeps the show interesting. But you should know that there is a good amount of dialogue; so unless you are quite familiar with this opera (sung in Russian), you will definitely want to consider choosing seats that are either up and/or back in the theater chamber so that you can see the supertitles (subtitles) that are projected above the stage and so that you won't have to crank your eyes and neck (looking up and down from stage action to the supertitles projected above) as you would in the up close seats of the orchestra floor.Since not all seats at the Winspear offer sightlines for viewing the supertitles projected above the stage, be sure to read The Flash List's article Seating at the Winspear to find good seats and make sure you can read the projected translations.
Editorial Policy: The Flash List is dedicated to providing trustworthy editorial content by maintaining strict ethical standards, journalistic integrity, and credible professionalism regardless of potential compensation as working media. The Flash List discloses receiving tangible and/or intangible benefits for the purposes of providing media coverage for certain events, venues, products, and/or services.
MORE ON THE FLASH LIST
50 Things to Do
Bored? Well, there's definitely no need to be. Take your pick of these fun things to do.
Entertainment News
The latest breaking news and top stories in arts, dining, culture, movies, music, and sports.
Events Calendar
Not everything in town that you could do, but a list of events that you definitely should consider.
Date Night Ideas
From retro candy stores to luxury car rentals, let us help you impress on your next date night out.
Movies in Theaters
See previews of movies coming soon and trailers for films now playing at local theaters.
Go Gallivanting
Our sister website, The Art of Gallivanting, offers extraordinary adventures for ordinary people.