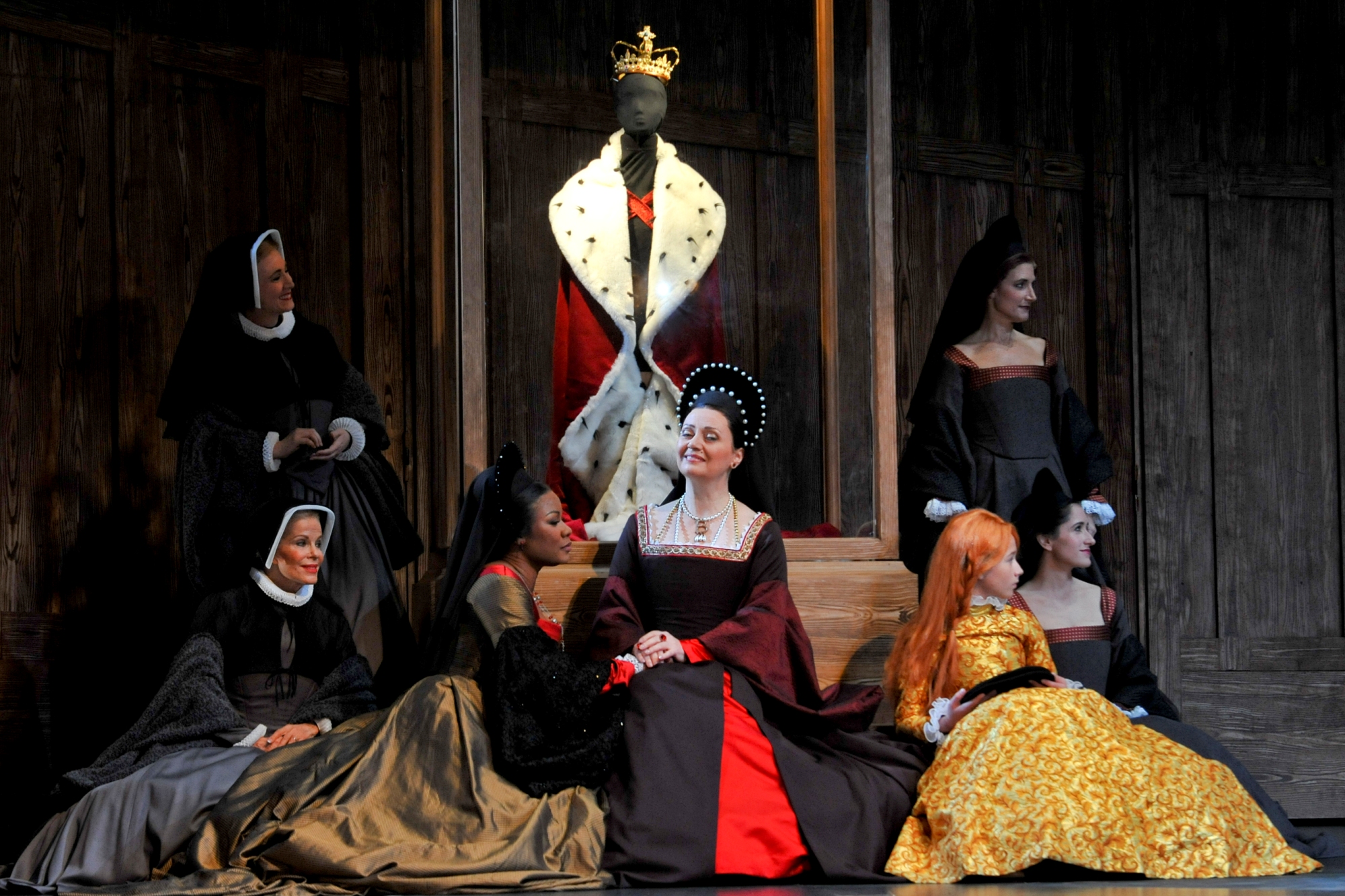 Posted October 30, 2010 | © Photo by Karen Almond
If only history class could've been like this!
The Dallas Opera's second production in this season's Dangerous Desires series opened last night with Anna Bolena, Gaetano Donizetti's lyric tragedy exposing the drama-infused final days of the second wife of England's King Henry VIII.
The performance began with a short history lesson consisting of words projected onto a huge tapestry-like piece of red fabric that hung in lieu of a stage curtain. It was an extremely useful way to quickly get everyone up to speed on the storyline (or at least those who've not had Showtime's The Tudors as a guilty pleasure over the past several seasons, anyway).
After King Henry's marriage to Anne Boleyn fails to produce the desired male heir (only the young princess, Elizabeth), he becomes disenchanted and decides to take another mistress, Anne's lady-in-waiting Jane Seymour. Internationally acclaimed mezzo-soprano Denyce Graves (in the role of Jane) softly glided out onto the stage, demurely waited for cue, and then busted out like a vocal powerhouse with rich and distinct words that resonated throughout the entire auditorium. Expressing Jane's conflict between her desire for the crown and her loyalty to Queen Anne, Graves also sang a sublime duet with bass Oren Gradus (playing Henry VIII) whose full, robust voice melodiously insisted that she'd be the next queen.
Armenian soprano Hasmik Papian gracefully played Anna Bolena, the emotionally tormented victim of a controversial plot to oust her from the throne. In an incredibly vocally demanding lead role (especially Act II), Papian's voice was bouncy, pulsed with fervor, and was particularly touching during a fabulous duet with Graves in which Jane admits to betraying Anna and refuses to deny her love for the king.
Amidst allegations hurled against her including adultery, incest, and treason, Anna's words became "I wanted a crown; I got a crown of thorns; though she was yet consoled by a profession of undying devotion from her former lover, Lord Percy (tenor Stephen Costello). This production marks Costello's completion of performing the leading tenor roles in The Dallas Opera's trilogy of Donizetti's Tudor operas for which Costello received an enthusiastic round of applause at curtain call from a most appreciative crowd.
Other players in this suspenseful story include court official Hervey (Aaron Blake) who spies on Anna and Percy and announces their sentences; Anna's brother Lord Rochefort (Mark McCrory) who, along with Percy, is tortured and chooses execution with Anna despite pardons from the king; and Smeton, a male court musician in love with Anna, played by the female mezzo-soprano Elena Belfiore who was terrific in this trouser role with her boyish, cropped hairstyle and Julie Andrews demeanor.
The multistoried set design was made up of a series of adjoining, hinged, paneled, wooden walls which opened and closed accordion style and were reconfigured to accommodate scene changes. Though sometimes using the walls as leaning posts for physical support, emotionally burdened characters often crooned while on their knees or from a collapsed position on the floor as if crushed by the weight of their pain and anguish. Three levels of balconies served as perches from which the chorus sang and a gallery of onlookers lamented the intriguing events unfolding on the stage below. Warmed toned leaves fell from overhead in Act 1 as a sign of the change in seasons (both literally and figuratively), and side stage lights cast ominous shadows of prisoners, armed guards, flowing royal robes, etc. In the end, like King Henry VIII, the walls were returned to the same position from which they started, ready to begin again.
Period costumes (designed by Ingeborg Bernerth and associate Julia Muer) were also indicative of the plotline with Anna dressed in Act I in a bright red skirt covered by a very somber gray. Jane, on the other hand, was clothed in a dark gold dress with traces of vivid red trim. In Act II, after her marriage to King Henry, Jane is outfitted with a beautiful bright gold dress with green underlay; while Anna meets her tragic fate in a black robe which she, upon remembering her happier youthful days, removes to reveal a simple white dress that signifies her insistent claim of innocence and honor.
Anna Bolena is running at the Winspear Opera House through November 14, 2010 with a running time of three hours including a twenty minute intermission. One practical word of advice though. Be sure to eat beforehand or at intermission to avoid a growling stomach, and unwrap cough drops if you need to, etc. Despite the extraordinary music in this production, there are quite a few dramatic moments of complete silence.
After November, The Dallas Opera takes a break while the Texas Ballet Theater performs The Nutcracker and The Grinch comes to the Winspear, but be ready to pick things back up in February when Charles Castronovo and Lyubov Petrova star in Romeo & Juliet (a great Valentine's Day treat for the ladies; hint, hint!!)
More Information
http://commandopera.com/2010/02/07/anna-bolena-versus-anne-boleyn
Editorial Policy: The Flash List is dedicated to providing trustworthy editorial content by maintaining strict ethical standards, journalistic integrity, and credible professionalism regardless of potential compensation as working media. The Flash List discloses receiving tangible and/or intangible benefits for the purposes of providing media coverage for certain events, venues, products, and/or services.
MORE ON THE FLASH LIST
50 Things to Do
Bored? Well, there's definitely no need to be. Take your pick of these fun things to do.
Entertainment News
The latest breaking news and top stories in arts, dining, culture, movies, music, and sports.
Events Calendar
Not everything in town that you could do, but a list of events that you definitely should consider.
Date Night Ideas
From retro candy stores to luxury car rentals, let us help you impress on your next date night out.
Movies in Theaters
See previews of movies coming soon and trailers for films now playing at local theaters.
Go Gallivanting
Our sister website, The Art of Gallivanting, offers extraordinary adventures for ordinary people.