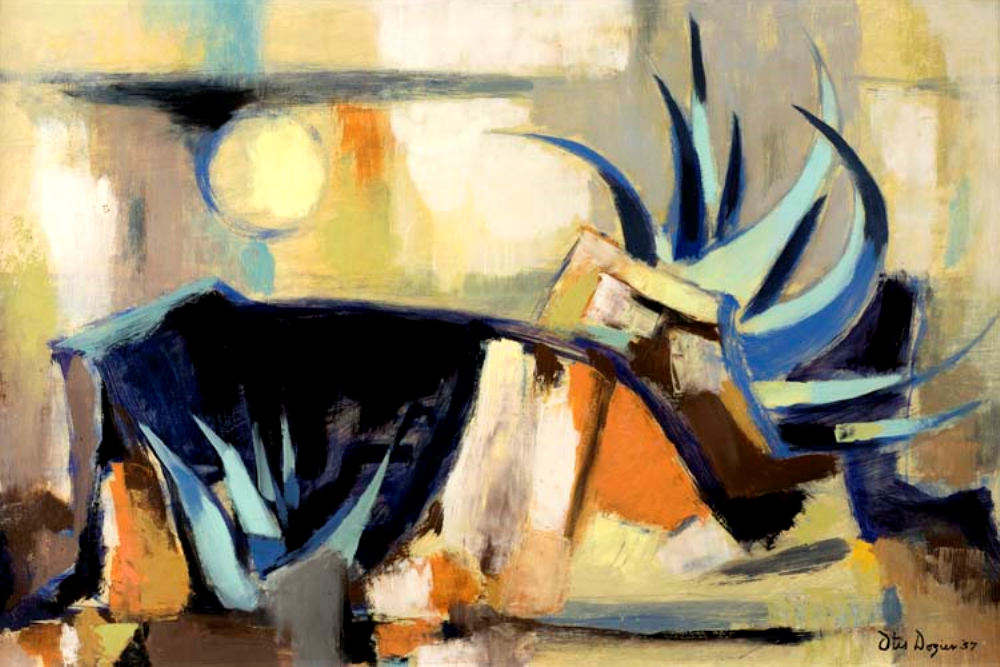 Sun Over Yucca & Rocks, 1957, Otis Dozier
© Photo courtesy of David Dike Fine Art
David Dike Fine Art
2613 Fairmount St.
Dallas
,
Texas
75201
214-720-4044
David Dike Fine Art specializes in late 19th and 20th century American and European paintings with an emphasis on the Texas Regionalists and Texas Landscape painters.
See additional information below or visit:
22nd Annual Texas Art Auction
Saturday, January 20, 2018 at
10:00 AM - 5:00 PM
David Dike Fine Art
2613 Fairmount St.
Dallas
,
Texas
75201
214-720-4044
Source: David Dike Fine Art
David Dike Fine Art's 22nd Annual Texas Art Auction will be presented Saturday, January 20, 2018, at the Wildman Art Framing on Market Center Blvd. Featured will be 402 turn-of-the-century to mid-century Texas paintings, works on paper and sculpture by some of the most important names in early Texas art, as well as some lesser known, yet distinctive finds. Several important collector estates are represented in the sale.
Highlights include several sculptures by the late Dallas artist Octavio Medellin and works by other Dallas artist such as DeForrest Judd, Bill Komodore, and Otis Dozier as well as early 20th century work by Julian Onderdonk, Paul Schumann, and Frank Reaugh.
Among the special offerings:
6 Paintings by Julian Onderdonk
6 Paintings by Porfirio Salinas
10 works by Dallas artist Otis Dozier
Rare important painting by Dallas' own Olin Travis, executed in 1936, War Lords
Works on paper by Jerry Bywaters who was a Dallas Nine artist and past director of the Dallas Museum of Art. (The Bywaters permanent collection is currently housed in the SMU Art Collection housed at the Meadows Museum)
This annual Texas Art event is a live paddled art auction and has become a tradition for collectors from across the state. The sale lasts all afternoon and into the early evening with food and drinks by Mudhen Meat and Greens restaurant. Traditionally drawing over 450 guests each year, both loyal and new auction bidders travel in from around Texas and other states to attend.
Fort Worth native David Dike is considered a leading expert in Texas art and widely represented in books on the subject. To preview the online art catalogue visit: www.daviddike.com. For questions call David Dike Fine Art at 214-720-4044.
Location & Hours:
Auction & Auction Preview Location:
Wildman Art Framing
1715 Market Center Blvd
Dallas, TX 75207
Auction Preview:
January 15 – 19, 2018, 10:00 AM - 5:00 PM
Auction Date:
Saturday, January 20, 2018. Doors open at 10 AM. Bidding starts promptly at 12 noon, CST. Live in person, phone, absentee and live online bidding available. Auctioneer: Louis Murad Auctioneers TXS 13362. Call the gallery directory for information.
See additional information below or visit:
MORE ON THE FLASH LIST
50 Things to Do
Bored? Well, there's definitely no need to be. Take your pick of these fun things to do.
Entertainment News
The latest breaking news and top stories in arts, dining, culture, movies, music, and sports.
Events Calendar
Not everything in town that you could do, but a list of events that you definitely should consider.
Date Night Ideas
From retro candy stores to luxury car rentals, let us help you impress on your next date night out.
Movies in Theaters
See previews of movies coming soon and trailers for films now playing at local theaters.
Go Gallivanting
Our sister website, The Art of Gallivanting, offers extraordinary adventures for ordinary people.