TRAVEL REVIEWS
Travel insights, cruise reviews, destination tips, and road trip ideas by Sherri Tilley, publisher of The Flash List entertainment guide.
TRAVEL SERIES
Pearls of Wisdom: A Ladies' Tour of the Deep South
10-PART TRAVEL SERIES PLUS HOTEL REVIEWS, AND MORE
Take a charming journey through the Deep South region of the United States with a special focus on a few of the important women who helped shape it.
TRAVEL SERIES
Discover Texas: Best Activities and Top Tourist Attractions
TOP ATTRACTIONS AND PLACES TO VISIT
Uncover Texas' top tourist attractions, romantic destinations, spectacular sights, places to visit, fun things to do, most popular activities, and much more.
FEATURED ARTICLES
Cruise Review: Carnival Conquest 7-Day Caribbean Cruise
After the longest conga line we'd ever seen, the night ended on the pool deck with the band rocking away and people dancing until way past midnight.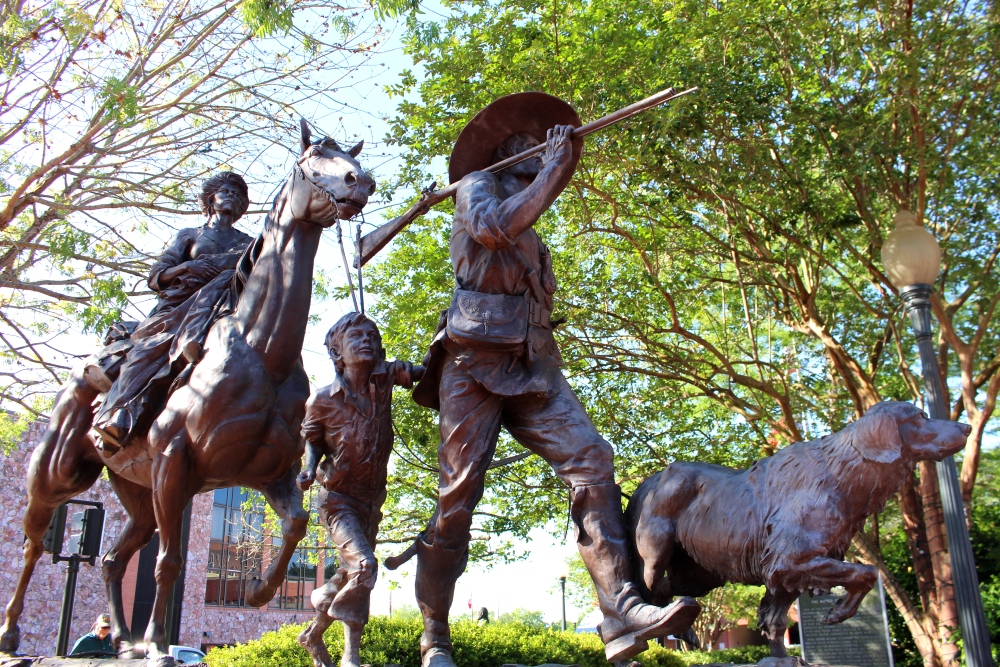 Following El Camino Real de los Tejas National Historic Trail
Venture back in time as early explorers and pioneering families set out on a quest for gold, geography, God, and glory.
Trip Tips: Best Practices for Traveling with a Companion
Heeding just a few simple principles while traveling with a companion can make a significant impact toward keeping personal relationships peacefully intact.
Interview with Travel Channel Host Samantha Brown
Samantha Brown speaks about her life and adventures, the world's perception of Americans, and showing Anthony Bourdain how to smile.
MORE ARTICLES
Turner Falls Park is Home to the Largest Waterfall in Oklahoma
9/24/17 | SHERRI TILLEY
The 1500-acre park features explorable nature trails, tranquil picnic areas, cave formations, and the remnants of Dr. Collings' Rock Castle.
R&R at a B&B on a Road Trip Adventure to Fredericksburg
2/14/15 | SHERRI TILLEY
C'mon, let's go places ... therapeutic ones. Fredericksburg, Texas, beckons with scenic Hill Country vistas, winery tours, shopping, golfing, and more.
Enchanted Rock Natural Area in the Mitsubishi Outlander Sport
12/20/14 | SHERRI TILLEY
Easily accessed with the Mitsubishi Outlander Sport, Enchanted Rock Natural Area draws thousands of campers, hikers, stargazers, and geocache enthusiasts.
Interview with Author Patricia Schultz
11/02/13 | SHERRI TILLEY
Author of the #1 New York Timzes bestseller 1,000 Places to See Before You Die talks about romantic destinations, remarkable festivals, and similarities of cultures.
Interview with Travel Expert Pauline Frommer
11/12/11 | SHERRI TILLEY
This travel legend speaks about roasting marshmallows over volcanic lava, characteristics of a good travel companion, our duty as Americans to travel, and more.
MORE ON THE FLASH LIST
Fun Things to Do
You've worked hard and now it's time to play hard. So kick back and enjoy some personal recreation.
Entertainment News
The latest breaking news and top stories in arts, dining, culture, movies, music, and sports.
Events Calendar
Not everything in town that you could do, but a list of events that you definitely should consider.
Date Night Ideas
From retro candy stores to luxury car rentals, let us help you impress on your next date night out.
Movies in Theaters
See previews of movies coming soon and trailers for films now playing at local theaters.
Go Gallivanting
Our sister website, The Art of Gallivanting, offers extraordinary adventures for ordinary people.